Julianne Moore Will Suit Up as Gloria Steinem for My Life On The Road
From portraying Sarah Palin to the feminist icon.
---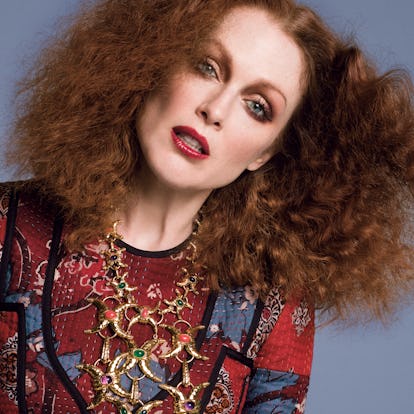 Photographer: Inez Van Lamsweerde and Vinoodh Matadin Stylist: Edward Enninful
Julianne Moore has played figures with a political bent before—she inhabited Sarah Palin so thoroughly, in fact, that she even confused her own husband. Now for her next film she suits up to play a very different sort of political animal—the feminist icon Gloria Steinem, who's campaigned for gender equality throughout her career. Moore will be playing the late '60s and '70s trailblazer in a film adaptation of Steinem's memoir, titled My Life on the Road, Deadline reports. Moore isn't the only industry veteran on board for the project; Julie Taymor, who's perhaps best known for helming Frida, Across the Universe, and Titus, will be directing.
The project is a natural fit for Moore, who has referred to Steinem as someone she considers "legendary" before. "I think artistically, somebody like [Isamu] Noguchi, somebody who really moves me because of the consistency of his work and the way he is celebrating shape and motion," she told WWD in October of her personal heroes. "I think about Gloria Steinem, someone who championed women's rights so early."
Moore and Steinem have also rallied behind the same causes, such as National Gun Violence Awareness Day. This past one, on June 2, Moore and Steinem, as well as celebrities such as Amy Schumer, Spike Lee, and J.J. Abrams, served as ambassadors for the cause, as InStyle reported at the time. "We're acting now because, for too long, the gun debate in this country has focused on choosing a side: pro-gun or anti-gun," Moore wrote in an op-ed for the Huffington Post on the subject. "That is simply a false choice. We respect the Second Amendment but keeping dangerous weapons out of the hands of convicted criminals, terrorists, domestic abusers, stalkers, and dangerous people isn't anti-gun, it's pro-common sense."
Sexism is another issue Moore has made one of her personal causes over the years, following in the wake of Steinem. Recall back in 2015, on the heels of the #AskHerMore campaign which urges red carpet journalists to speak to actresses about more things of substance than what they're wearing, Moore spoke out about Hollywood's sexism, telling Refinery 29, "When people talk about sexism being endemic to show business specifically, I think that's not true. It's more of a global issue. I think the thing that we're becoming aware of is that there are differences to the way genders are treated throughout the world. It's not something that's happening just in my business." Which is all to say that she's going to make a fierce Gloria Steinem on screen.
Merly Streep inspired Julianne Moore to be an actress: