Artist and Marc Jacobs Collaborator Julie Verhoeven Loves Her Vintage Galliano, Would Never Wear a Halter-Neck
With a new fashion collaboration and a Frieze installation in the works, the 47-year-old eccentric shares her style inspirations.
---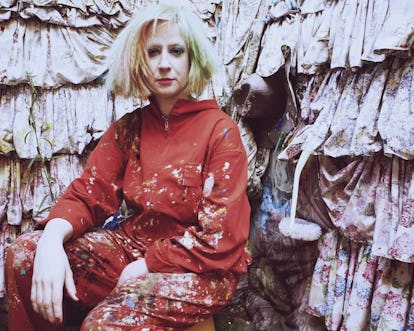 Amid the competing statements on display at Marc Jacobs's Spring 2017 show in New York last month — wool faux dreadlocks! baby-doll dresses with platform heels! a set inspired by Blade Runner! — there was Julie Verhoeven, fashion illustrator, artist, and perennial design collaborator. Her patchwork prints adorned sweatshirts, jackets, tote bags, and box clutches throughout the collection, adding a dark kind of whimsy to the already pretty whimsical presentation (pills, hearts jammed into toasters, eerily unblinking eyes). Verhoeven, a veteran of previous collaborations with Versace, Louis Vuitton, and Mulberry, is also a prolific artist in her own right — this month, she's staging an installation in the bathrooms of the Frieze London art fair, entitled The Toilet Attendant… Now Wash Your Hands. Here, Verhoeven — known for her eccentric fashion inclinations, which she describes as "budget pantomime" — shares her style essentials, including her favorite London hangs, the vintage pieces she's coveting, and the elements of style she just can't stand.
Age: 47
Describe your style: Budget pantomine.
Favorite store in London: Poundlands.
Favorite vintage stores in London: Retromania , Upper Tachbrook Street, and Beyond Retro, Cheshire Street.
Nighttime look: More or less same as day, minus bra.
Style icons: Mathilde Willink, Freddie Mercury.
Best recent discovery: Rottingdean Bazaar.
Style pet peeve: Jeans in general, because they say nothing.
Last purchase: Emma Greenhill swan and caterpillar leather pouch with matching scarf.
Lusting after: Vintage Marimekko.
Something you always carry in your bag: Makeup bag.
Travel essential: Mirror.
Something you would never wear: Trousers and halter-necks.
Most prized possession in your closet: I have a Paul Poiret-inspired yellow and black velvet bell coat from Galliano, circa 1990.
Favorite accessory you own: I have an outsize wooden screw on a chain which I love.
Fashion week go-to: Peter Jensen presentations.
Something you've loved this season: Matty Bovan of Fashion East.
Something you can't wait to wear when it gets cold out: Vintage blue teddy bear fur full-length coat.
Last museum exhibition you loved: Neo Naturists at Studio Voltaire, London.
Music you're listening to right now: Fat White Family.
Something you're reading right now: Nora Ephron, I Feel Bad About My Neck.
See W's most popular videos: