July Release: Eva Mendes
Eva Mendes Wants To Make Us Laugh, Artist Jakub Julian Ziolowski's Vivid Paintings, Terry Richardson Shoots Fashion In The Big Apple, Plus! Dallas' Bursting Art Scene
---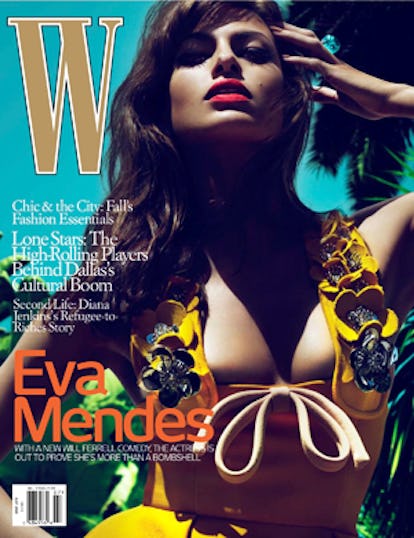 Highlights from the July issue of W magazine are below:
EVA MENDES, ACTRESS- page 44:
With her new Will Ferrell movie, The Other Guys, actress Eva Mendes looks to prove she's more than just a sultry bombshell–she's got comedic chops too. In the July issue, Mendes speaks with senior editor Diane Solway about her sexuality, ethnicity, and passion for performing:
On seeing her Calvin Klein ad for the first time:"There I was all greased up, my head thrown back, and I thought, Who are you Are you kidding me?"
On her latest comedy, The Other Guy:"It's very hard for me to be seen as funny. And the truth is, that's where I'm most comfortable."
<strongOn performing in the nude: "I've never had a problem with nudity, but I don't put it out there without a reason. I'm not an exhibitionist. But, honestly, for my art I'll do anything almost. I'll go there.""
<strongOn her own dual passions: "I'm a modern woman in the sense of I take care of myself, I'm fiercely independent, and I'm really ambitious. Yet I have these old-school thoughts in my mind. I do like to belong to a man. I love having a man in my life, and being his woman at the end of the day. I know it's a dichotomy.""
<strongOn her ethnicity:"I don't consider myself a Latin American actress. I was born and raised here, and I have Cuban parents, but for me, I am the new American girl. It's not only Drew Barrymore and the blond Mid-western girl. This, [pointing to her face] is also what we look like now.""
JAKUB JULIAN ZIOLOWSKI, ARTIST- page 94
Young Polish artist Jakub Julian Ziolkowski's mesmerizingly vivid paintings have the art world abuzz. With his first solo show opening on June 30th in New York at Hauser & Wirth, W's Christopher Bagley talks to the reclusive artist about his often nightmarish paintings. "I just believe that people are really bad," says Ziolkowski. "We think we are clever, but we are very, very primitive."
TERRY RICHARDSON IN 'LUNCH BREAK'- page 64:
Lunch Break, shot by Terry Richardson, features looks fit for the chicest city slickers. Shot all around the Big Apple, W's fashion director Alex White gives sophisticated, edgy, and even a bit whimsical looks, perfect for the urban jungle. And, in Face Time, beauty editor Jane Larkworthy shows us the best beauty bets this summer–light and sheer is the trick! (page 88)
DALLAS, TEXAS: THE CITY'S CURRENT ARTS BOOM- page 54:
Thanks to a civic-minded group of philanthropist's, Dallas, Texas is becoming a bona fide arts destination. In the July issue, W's Kevin West profiles the lonestars behind the cultural boom–a group of families who donated their entire shared collection of art to the Dallas Museum creating, as if from scratch, one of the country's most dynamic art scenes.
TOMAS MAIR, CREATIVE DIRECTOR, BOTTEGA VENETA- page 26:
Since arriving at Bottega Veneta in 2001, Creative Director Tomas Mair has spun the once flagging, overlicensed accessories company into luxury gold. Now, his focus is on the company's ads, turning them into fine-photography showcases. "I think I understood what he was after at the beginning, which was an image with a character," says photographer Stephen Shore of Mair.
Please credit the July issue of W for the above. For additional information or to schedule an interview with a W editor, please contact Elissa Lumley at 212-286-2225, elissa_lumley@condenast.com or Caitlyn Carpanzano at 212-286-2885, caitlyn_carpanzano@condenast.com. Thank you.