Alexandra Shipp on Playing Storm in X-Men: Apocalypse
Alexandra Shipp on Playing Storm in X-Men: Apocalypse
---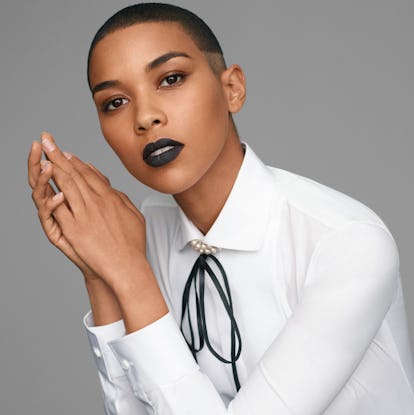 Photographer: Thomas Whiteside Stylist: Deborah Afshani
Many a young actress might cry upon learning she was required to shave her head for a part. Alexandra Shipp threw a party. "I couldn't tell anyone what I was doing or why I was doing it, so I just shot a text out to my nearest and dearest and was like, be at my house by midnight," says the 24-year-old, who adopted the look to play Storm, a teenage mutant, in Marvel's X-Men: Apocalypse. It was quite a role to take on, considering that the adult Storm had been played by Halle Berry in previous X-Men films. But after each of her friends took a turn with the electric razor, Shipp says, she felt reborn. "It just gives you that extra she-could-stab-a-bitch edge."
Though Storm doesn't engage in much hand-to-hand ­combat—her main power is controlling the weather—a badass attitude still came in handy. Set in the 1980s, this installment resurrects an ancient mutant known as Apocalypse, who awakens from his 5,000-year sleep with plans to take over the world. Storm jumps onto his destructive bandwagon.
"I wanted to come from a place of pure anger—when I was 18, I was angry, emotional," says the Phoenix native, who starred in last year's Straight Outta Compton as Ice Cube's wife, and as the pop icon Aaliyah in a biopic for Lifetime. Shipp herself has been singing and writing songs for some time and hopes to release an EP this year. "Acting is a way for me to be somebody other than myself. But with music, I'm not Storm. I'm not Aaliyah. I am Alex—and to let people see that is really scary."
Watch W's most popular videos here:
Hair by Brian Buenaventura for Kerastase at Management + Artists; makeup by Yumi Mori for Dior. Digital Technician: Caitlin Frackelton. Photography Assistants: Reto Sterchi, Max Kelly; Fashion Assistant: Milton Dixon.