June Release: Cate Blanchett
Cate Blanchett: "I'm so misunderstood!", Sir Philip Green Shares His Wealth, Perfumer Serge Lutens' Moroccan Hideout, Plus! Designers Reveal Their Fall Inspiration
---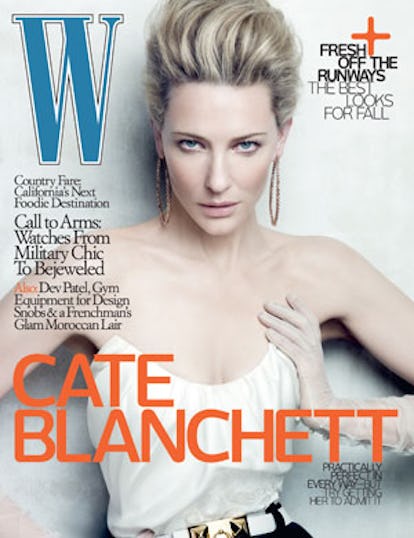 Highlights from the June issue of W magazine are below:
CATE BLANCHETT, ACTRESS- PAGE 74:
Cate Blanchett is hard at work on her latest film, Hanna, while continuing her post as artistic director of the Sydney Theatre Company. The Australian actress gives W's Danielle Stein a rare and intimate look inside her specialty, with a candid interview between her husband and theater partner, playwright Andrew Upton.
Cate Blanchett on her inaccurate public perception:"I'm so misunderstood! I'm not focused on what other people think of me. Some people get you and some people don't, and to spend your life trying to make people understand how deep and complex and varied you are–I think that way lies madness."
Blanchett on her husband's influence:"My husband keeps me really honest. I remember him saying to me after I made Elizabeth, 'Sweetheart, you've probably got about about five years.' He was preparing me for the time when the work dries up, as it invariably does."
<strongBlanchett's husband, playwright Andrew Upton, on his wife as a coworker:"She challenges, but she's not aggressive. I can tend to be a bit scattergun…She would be the first and pretty much only person I would seriously seek counsel from. We're fairly brutal with each other."
<strongBlanchett on working with her husband: "We're really open. I have friends–she's an actor/writer married to a director–and she was horrified when we said we were going to work together. She said they don't talk about work because they don't want to venture into the territory of being criticized by you partner. But I know what to do with the criticism."
SIR PHILIP GREEN, TOPSHOP OWNER, BILLIONAIRE- page 48
Top Shop owner Sir Philip Green is one of the UK's largest private employers–with 45,000 staffers and 3,200 stores in 34 countries–selling everything from duvet covers to Kate Moss-designed frocks. In this issue, W's Samantha Conti checks in with the billionaire, getting his take on business, family, and enjoying his personal worth. "I've bought and sold and owned nearly 5,000 shops in this country," says Green. "I've got nothing to prove. Zero."
SERGE LUTENS, PERFUMER- page 96:
Thirty-five years in the making, the home of reclusive perfumer Serge Lutens is the ultimate Moroccan hideout. But after decades of renovation and meticulous craftsmanship, the home has never been lived in. "You could call it obsession. But obsession is a necessary part of creation," says Lutens.
BEST IN SHOW: DESIGNER'S FALL INSPIRATIONS REVEALED- page 54 :
With a mélange of flannel and fur, cashmere and camel hair suitings and shearlings, Craig McDean and Alex White bring the best in show for fall, featuring insight and inspiration from all the designers. Nicolas Ghesquiére, for example, was influenced "by an Irving Penn picture representing someone from the streets wrapped in a poster with words."
XAVIER DOLAN, FILM DIRECTOR, SCREEN WRITER, ACTOR- page 24:
By 19, Quebecer Xavier Dolan had wrapped I Killed My Mother, his autobiographical movie about the tension between a gay teen and his mom, which later won five awards at the 2009 Cannes Directors' Fortnight. Now, he is on to his second and third films. "I might be told you're too small, too tall, too young, too old," Dolan says on acting in his own film. "I thought, 'This screenplay is my life; I will not be too tall or too young. So I'm going to act the hell out of it.'"
The June issue of W magazine is on newsstands nationwide May 25th. For additional information or to schedule an interview with a W editor, please contact Elissa Lumley at 212-286-2225, elissa_lumley@condenast.com or Caitlyn Carpanzano at 212-286-2885, caitlyn_carpanzano@condenast.com. Thank you.