The Mountains Come to Brooklyn
A new pop-up shop brings out Williamsburg's wild side.
---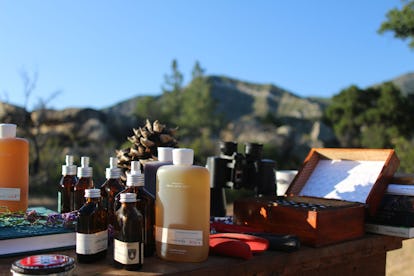 If, like me, you crave mountain air but can't always make it out of the city, hike over to Kings County (aka Brooklyn), where Juniper Ridge is opening a pop-up shop on October 10. Based in the Pacific Northwest, the brand has lugged over not only their new "Backpackers" series of colognes, soaps and room sprays but also a photo-booth-sized Transporter that takes viewers on 45-second multi-sensory "excursions" to places like Oregon's Mt. Hood and the coastal hills of Big Sur. Events, like fragrance distillation demonstrations and woods-themed cocktail parties (Redwood martini or Desert Sage old-fashioned, anyone?) will also be part of their three-month stay. I might just pitch a tent and stay.
Juniper Ridge's pop-up shop is located at 101 North 8th street, between Wythe and Berry; 718-522-4959.
Photos: The Mountains Come to Brooklyn