Juno Temple Doesn't Go to Bed Without Putting on Perfume
The actress has been spending time immersed in everything from Gloria Steinem and the Gun Club to the Magnetic Fields and NPR, as she reveals in her culture diet.
---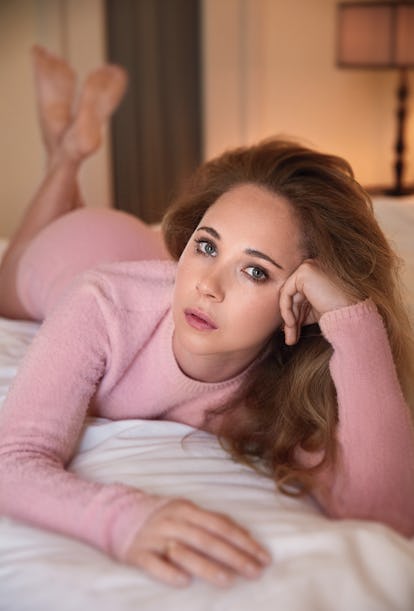 The actress Juno Temple has been quite busy in the last year. No less than Woody Allen and James Franco have already tapped her for their upcoming films, and Franco even asked her to star in a short for his new company EBS. One of 10 in a series by Elysium Bandini Studios in tribute to the charity Art of Elysium's honoree Stevie Wonder, "Harmony" stars Temple as a frizzy-haired, short-tempered teen who can't seem to stop fighting with her roommate, Alicia Witt—an interpretation of Wonder's "Signed, Sealed, Delivered." On her own, Temple's been listening to the Gun Club—a dose of psychobilly she's looking forward to balancing out with the Magnetic Fields, as she tells us in her culture diet. Find out what else she's been into lately, here.
First thing you read in the morning: The Daily Skimm.
Books on your bedside table right now: Bad Behavior by Mary Gaitskill, My Life On The Road by Gloria Steinem, The Girls by Emma Cline, and Collected Poems by Philip Larkin.
The TV show keeping you up at night: I just watched Stranger Things for a second time and I cannot wait for the last season of Girls. I also loved Fleabag.
Last movie you saw in theaters: The Edge of Seventeen.
Last thing you saw at the theater: The Crucible.
Last piece of art you bought, or ogled: An original Seven Year Itch poster.
Last museum exhibition that you loved: The Pablo Picasso and Diego Rivera show at LACMA.
Release you're most eagerly anticipating: The New Magnetic Fields album!
Last song you had on repeat: "Mother of Earth" by the Gun Club, from their album "Miami."
Last concert you saw live: My friend Lily Kershaw.
Favorite podcasts: I like NPR.
Favorite Snapchat and Instagram accounts to follow: I am not a huge social media person…
Last thing you do before you go to bed: Put on some perfume.
See Juno Temple try her hand at ASMR: