Jurnee Smollett Finds the Timelessness and Timeliness of Lovecraft Country
Smollett talks about Misha Green's deconstruction of the sci-fi genre, addressing America's history of systemic racism, and shape-shifting for her character in Lovecraft Country.
---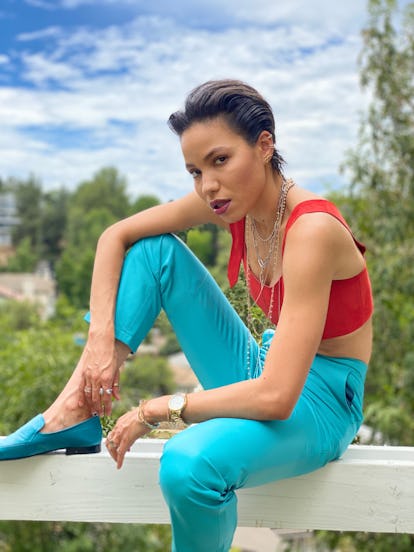 Self portrait by Jurnee Smollett for W magazine. Makeup: Vincent Oquendo. Hair: Nikki Nelms. Styling: Alexandra Mandelkorn.
In Lovecraft Country, series protagonist Leti Lewis tells it like it is. Jurnee Smollett, the actress who plays her, isn't much different when it comes to speaking truth to power.
Smollett stars in Lovecraft Country as the feisty, self-assured (and quite chic) Letitia "Leti" Lewis, opposite Jonathan Majors as Atticus Freeman, a war veteran who finds his escape reading the works of H.P. Lovecraft—a writer widely regarded as a cornerstone of the modern science-fiction genre, but also a notorious racist.
Man-eating monsters, secret societies, ancient banshees, and plenty of other creatures inspired by Lovecraft's fiction factor into the narrative of the series, with each episode framed around a new behemoth that somehow links back to Atticus and his search to understand and free himself from the clutches of his past.
Lovecraft Country, HBO's adaptation of Matt Ruff's novel of the same name, is not unlike the network's adaptation of Watchmen, in that it also deconstructs a classic genre, reinterprets its core themes and spectacles, and formulates the final result: a commentary on the racism that is deeply programmed into the history of the United States. Ahead of the show's August 16 premiere, Smollett spoke to W over Zoom to discuss accessing her own family history to inform her performance as Leti, the impact Lovecraft Country could have on the television landscape, and the timelessness of the themes presented in the show.
Had you been familiar with the work of H.P. Lovecraft, or the book Lovecraft Country, before joining this show? Or even a fan of the genre?
I was a fan of the genre. We touch upon several different genres, so yes, I was a fan of horror, sci-fi, thrillers. One of my earliest memories of seeing a true horror film was The Silence of the Lambs when I was 10. My sister had a sleepover, and oh my goodness. For one, I love Jodie Foster and anything she does, but that character [Hannibal Lecter], that man was terrifying to me! I was so drawn to it. As an artist, I've been quite frustrated that for so long I kind of discounted the genre, especially horror, as, 'Oh, it's just not going to be right for me.' Because most of the projects that I would read or would be offered were just truly unsatisfying, but also sometimes very borderline degrading or disrespectful. It was a thing where I would tell my agents, 'I'm not doing a horror film. I'm not gonna be the chick that dies on page 37.' No offense to anyone who chose that, but for me, it was just frustrating.
But because I'm such a lover of the genre, it's a quite exciting time because there are so many filmmakers diving headfirst into this. Jordan Peele, Misha Green, Nia [DaCosta]—these folks are really reimagining this genre. With Lovecraft Country, what excites me so much about Misha's approach to it is that she really deconstructs the classic genre, flips it on its head, smacks it back to you. [Laughs.] And then you don't know how to respond. It's this radical reimagining of the genre and it centers Black folks, Black stories, Black joy, Black trauma, Black pain, Black rage, and our pursuit of happiness. And yet—even though it's this big genre spectacle—its core is a family drama.
Your character, Leti, walks a tightrope, swings baseball bats, and runs from monsters at various points in the show. How did you physically prepare for the role? Was the training more intense than the training you must have undergone for an action film like Birds of Prey?
It was different. I shot the pilot of Lovecraft Country, and then trained for Birds of Prey and shot that. My body had changed physically a lot between the pilot and the remaining season. It was a lot about trying to have, honestly, a curvaceous frame, physically, with Leti. When I went back to the series, Misha came to me and she said, 'So, these arms…' [Laughs.] I had put on like 10 pounds of muscle to play Black Canary. With the training in Atlanta with Lovecraft Country, the focus was more about packing on more weight, just becoming a little softer, having a little more love. It was about transforming physically, but also women of the 1950s just carried themselves differently. The posture was different, the way they sat was different, the dignity from the crown to the toes was just different. It was about embodying that in my body.
Since you were a child, much of your work has addressed the history of American racism and this nation's mistreatment of Black people—whether that's something as recent as Underground, or something as formative as Charles Burnett's Selma, Lord, Selma, which takes place a century later in the 1960s. Lovecraft Country brings us into the mid-20th century, but the core threat of racism is still the same, making it both timely and timeless. Is that something you actively look to address in your projects?
Lovecraft is very timely. In the 1950s, you had an Emmett Till and now you have a Trayvon Martin. But these stories are very deeply personal for us as artists. The challenge, or actually the sobering truth is, when would they not be timely? When you are people who were stolen from their land, brought to stolen land, the themes we explore in Lovecraft Country, this show could have arguably been released on any day of any month of any year since 1619, and the themes we explore would still be relevant. That's the sobering truth that we as a nation have to reconcile.
There's a great reckoning happening—we're fighting two pandemics, and one of them is the systemic racism that we have yet to heal from. With Lovecraft Country, because it is so personal for me, I didn't have to go very far to access the blood memory. On a molecular level, I could feel the vibrations of the story in certain scenes. The story is very ancestral. Misha talks about this all the time, it's a story about our legacy. It's a story about our overlooked history, and the dangers that happen when the truth is distorted.
You mentioned the personal, ancestral relationship you felt to your character. Did anyone—real or fictional—inspire your performance of Leti?
I did go back and research this era quite heavily. But honestly, the biggest influence for me was my grandmother. My mother's mother, she passed away prior to any of us being born, so I never got to meet her. But I grew up hearing stories of my grandmother. She was nicknamed "Showtime" and she was the first Black Miss Galveston. Beautiful woman—we had this picture of her, in any home this picture would be put in a central place, like on a fireplace. She had this big smile, big cheeks. I grew up hearing stories about how she was a single mother raising four kids, and she would go to work every single day cleaning homes of white folks—interestingly enough, something Leti said she'll never do. She would iron her dress and do her hair and makeup every single day, and regardless of how they mistreated her, neglected her, or underpaid her, she would not allow them to rob her of her dignity. The pursuit of dignity, the pursuit of joy was so radical to me, but these are the women we come from. That's the blood memory that I talk about, that I know. She was for sure the biggest influence for me in approaching Leti.
As you said earlier, there is a theme of property and ownership. How does your character's plight of moving into a white neighborhood reflect some of the systemic issues many Black Americans have faced when trying to buy property?
Redlining, notoriously, shut out so many Black Americans from being able to wealth-build. When we see statistics now that Black people own homes at a lower rate than their white counterparts, it's because the system would not loan to us. Even if we had the money for the down payment or whatever, there were certain laws or real estate policies where the banks would turn you away if you were trying to purchase a home in a certain neighborhood. This is what we talk about when we say "systemic racism," it's built into the fabric.
You're a founding member of Time's Up, and have been outspoken about your role in dismantling systemic injustice, including the gender pay gap. You recently told The Hollywood Reporter that with this project, you're finally being paid the same as your male co-star for the first time in your career. What is your advice for other women who may find themselves in a similar position as you when it comes to demanding to be paid what they're worth?
My advice is to not ask for permission. We're in a day and age where you have Issa Rae, Ava DuVernay, Misha Green, Gina Prince-Bythewood—you have so many women who are taking ownership of our narrative and telling our stories. For so long, it's been limited to a very specific cis, straight, white, male gaze. When you have over 1,300 films from 2007 to 2019 and only one percent were directed by women of color? That's a massive problem. And TV's not so much better. But there is this spirit of disruption happening that really excites me. It's built upon the Kasi Lemmons of the world, who were the first or the only. So, my advice to any creative person is just don't ask for permission. We don't have to do that anymore. Like, that's so yesterday. [Laughs.]
Related: Jurnee Smollett to Star in Adaptation of Lovecraft Country