Is This the Hippest 6-Year-Old in the World? Meet the London Street Style Star Who Wears Head-to-Toe Gucci
Just Claudio is the literal Gucci baby.
---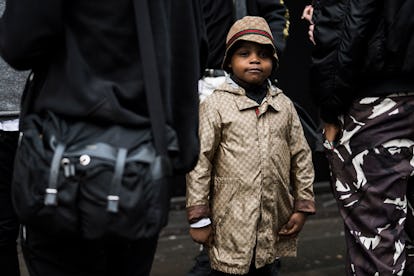 Photo by Julien Boudet.
Street style stars just keep getting younger, it seems.
At Seoul Fashion Week, troves of well-dressed toddlers took over the streets, often outshining their chaperones. And last week at London Fashion Week: Men's Spring 2017, W photographer Julien Boudet spotted an adorable 6-year-old named Just Marcolino Claudio wearing head-to-toe Gucci outside of the shows. He was joined by his brothers, Juven, 8, Jon, 11, and Joel, 18, who was their guardian for the day.
"Last season, I took all my brothers down to Brewer Street in SoHo," said Joel on Monday after school. "They caught loads of attention! But especially Just, who was in an all-Gucci fit down to the socks. People kept asking me if he had Instagram and friends were pestering me to make one, so I did."
Joel himself is a street style photographer, which is why he headed down to the shows in the first place. But the parents of the Claudio boys — who are originally from Paris, France, but raised their children in East London — have a background in fashion as well, and often take their kids with them on shopping sprees and let them play dress-up in their closet.
"My dad used to display clothes and merchandise in Gucci ages ago and was a sales assistant in Kenzo, Selfridges, Cecil Gee and H&M," explained Joel. "But they also just have really good taste."
In the mornings, they dress their younger boys like Just, sometimes letting him choose if they're not in a rush. "Although, he will say if he doesn't like what he's wearing, so we have to change him and make sure he is comfortable," said Joel. Fashion, it seems, is really a family affair, and Just's parents fully approve of their son's newfound street style style stardom. (They were in the room for this interview).
"It's so cool seeing him in the spotlight!" said Joel when asked if he worried at all about his youngest brother. "He's too cute. I kind of don't want him to grow up, to be honest."
What do you like about fashion? Just Claudio: It makes me look big.
What are your favorite brands? Supreme and Gucci.
What do you like about Gucci? They have gold stuff and it's the best. They have bangin' shoes. It fits me. Mad sick.
How does it make you feel when you wear Gucci? I love it. It makes me feel good and swag.
What are some of your favorite pieces? Gucci rain coat, Gucci reptile high-top trainers, Gucci wellies, Gucci black canvas trainers, Gucci cap.
What's it like going to fashion week? Being sick and relevant.
What did you see at fashion week this season? So many photographers. People looked really nice and had mad crazy hair.
What do you think about photographers all wanting to take your picture? They were good pictures. I was excited.
Do you practice your poses for them? Yeah.
Is there anything that you don't like to wear? Nope.
What do you want to be when you grow up? I want to be a model!
London Men's Fashion Week Street Style: Bold Blocks of Color, Don't Forget the Fur
Chris Pine's First Audition Was for "Gilmore Girls"