Inside Just One Eye, the High Fashion Boutique for Art Lovers
A closer look at the lauded Hollywood store, in honor of a new denim collaboration with Creatures of the Wind.
---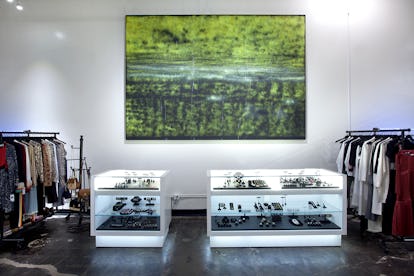 When Just One Eye opened in 2012, it quickly became a go-to for deep-pocketed art collectors and fashion lovers looking for a highly-curated shopping experience. Filled with everything from clothing to paintings, one-of-a-kind furniture and specialty objects, it's a far cry from your typical retail concept.
Walking into the store, guests are immediately greeted by a suited man, who guards a desk with an open Helmut Newton book and a bookshelf with assorted objects. Amongst it all, a singular piece stands out: Just One Eye's "Porcupine Bean Bag Chair," a black, lambskin-leather, spiked chair that retails for $25,500. And with a closer, more informed look, two of the items on display are Victor Douieb's rhinoceros sculptures. Price tag? $15,000 each. It's no wonder security is tight.
The small, minimalist entrance is misleading. It's a vast, sprawling building – situated in Hollywood, below Santa Monica Boulevard – with long, narrow corridors leading to various spaces. The downstairs houses two large fitting rooms, a fine jewelry room (currently featuring Wilfredo Rosado), and the main showroom, which showcases the majority of the items for sale. Shoppers will find Gucci and Chloé, but also the likes of Jitrois, Off-White and Vetements, as well as Just One Eye's special collaborations – the latest of which is with Creatures of the Wind.
"There are very few shops in the world that are so aesthetically profound, between the art and the clothing and just the way everything is curated," says Christopher Peters, one half of the design team behind Creatures of the Wind, along with co-designer Shane Gabier. "It's such a specific and strong voice."
Their brand has now been carried by Just One Eye for six seasons, and the denim project came together following the success of Creatures of the Wind's resort 2016 collection. On Thursday, the designers will unveil the collaboration at a private dinner, where guests will be able to use an app to customize the classic, narrow jeans (in white, black denim or black suede) with embroidered details like "graphic floral motifs, psychedelic line work and geometric shapes."
"We've been working with a really special couture embroidery company for a few seasons," says Gabier. "It's incredible hand work."
"At this point in time, that's what luxury customers really expect," adds Peters. "They want a certain level of involvement in the things they're buying."
Customers will soon be able to visit Just One Eye to try on the jeans in person, before customizing and placing an order – after which, pieces will be sent to India and returned with the embroidery within four to six weeks.
"It's been very pleasant," says Just One Eye co-founder Paola Russo of working with the designers. "The fit and embroidery is something that everybody loves at the moment. It's very L.A."
Courtesy of Just One Eye.
Courtesy of Just One Eye.
Courtesy of Just One Eye.
Courtesy of Just One Eye.
Courtesy of Just One Eye.
Courtesy of Just One Eye.
Courtesy of Just One Eye.
Courtesy of Just One Eye.
Tribes Eclectic international customers, art lovers and luxury shoppers.
The Mix Runway collections from recognized houses to younger brands: for women, Valentino ("Multi Stars" dress, $4,370) and Beau Souci ("Smoking Lips" sweater, $1,200); for men, Marni ("Tie Die" sweater, $1,155) and Exemplaire (tees, $615). Fashion accessories, jewelry, shoes and sneakers (Nate Lowman x Converse, $25,000). A variety of photography and art books (Helmut Newton's "Sumo," $150), paintings, sculptures, objects like Victor Douieb's shark pendants (starting at $1,800) and furniture pieces (side chair by Carlo Bugatti, $14,500).
Best Sellers Gucci, Valentino, Beau Souci, Francesco Russo and Wilfredo Rosado.
Design Howard Hughes' former headquarters (a portrait of the tycoon hangs on a stairway); art Deco architecture with an extensive roof deck – which Russo has direct access to from her charming, sunlit office.
Pièce de résistance A large Damien Hirst spot painting that is impossible to miss when entering the main showroom.
Prices The shop has a wide price range, starting at $50 online for Yves Bonnefoy's Giacometti; $750-$2600 for Just One Eye's embroidered denim collaboration with Creatures of the Wind.
Location 7000 Romaine Street, Los Angeles, CA 90038. Monday – Saturday, 10 a.m. – 7 p.m. Closed on Sundays.
For those who prefer to shop from home: Justoneeye.com
Watch actress Eva Longoria explore ASMR: