Justin Bieber Quits Instagram in Grand Style, But Kanye West Isn't Going Anywhere
Biebs says bye to his nearly 80 million followers, while rapper West announces new pop-ups, a new season of Yeezy, and an apartment hunt, all at the same time.
---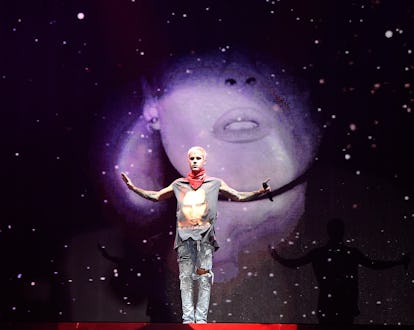 Kevin Mazur/Getty Images
Bieber, Justin Deleted his Instagram after a few photos with his rumored new fling Sofia Richie set off a social media firestorm (culminating in some sharp words exchanged with Selena Gomez). And by giving up his nearly 80 million followers, he might actually become even more famous is the process.
Blame, Judy Stylist, designer, zine-maker, all-around punk iconoclast. How will they fit all that in the halls of the Institute of Contemporary Art?
Campbell, Naomi Just one of the big-name mentors for the VFILES runway show at September's New York Fashion Week — she'll be joined by Rihanna's stylist Mel Ottenberg, Young Thug, Pat McGrath, and Jerry Lorenzo of Fear Of God.
DiCaprio, Leonardo Currently wrapped up in a hairy Leonardo DiCaprio Foundation situation. The U.S. Justice Department filed a complaint (the same day as the Foundation's annual gala) that indicated the fund may have received donations embezzled from a Malaysian wealth fund.
Lochte, Ryan Turns out, that Rio robbery might have been several shades less than true. Brazilian officials are trying to unravel the story of the four American swimmers who claim they were robbed at gunpoint during the Games, going so far as to prevent at least two of them from leaving the country before they can be questioned further. Lochte, for his part, is already firmly back in the U.S.
Vuitton, Louis With Léa Seydoux as its ambassador, Les Parfums Louis Vuitton make a comeback, 70 years after the brand last released a fragrance.
West, Kanye Yeezy Season 4 is a go. Here's what we know so far. (West also announced a series of Pablo pop-ups across the nation, and might also be looking for an AirBnb home base with Kim, à la Kylie Jenner.)