Justin Bieber Is Taking Merch Very, Very Seriously
Expanding his Purpose empire, one Urban Outfitters at a time.
---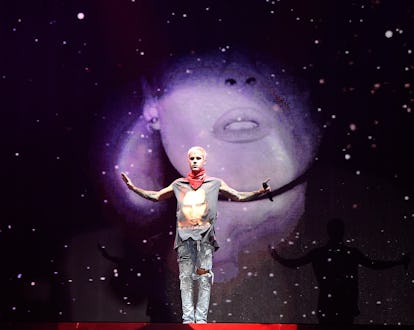 Kevin Mazur/Getty Images
Bieber, Justin Taking merch to a new level with an Urban Outfitters partnership. Urban will sell Bieber tour merch in stores and online as of early August.
Carven The French label's menswear designer Barnabé Hardy has stepped down from his position as the brand decides to suspend menswear and focus on womenswear.
Clinton, Hillary Getting in a few digs against Donald Trump in the process, Hillary Clinton accepted the Democratic party's nomination for president of the United States, making her the first female nominee from a major party.
Delevingne, Cara Maybe engaged? Maybe to Annie Clark, AKA St. Vincent?
Film Festival, Venice Announced its lineup for the 2016 festival, which runs August 31 to September 10; among films entered into competition are The Light Between Oceans with Alicia Vikander and Michael Fassbender, Terrence Malick's new film, Tom Ford's Nocturnal Animals, and Damien Chazelle's follow-up to Whiplash, La La Land.
Foxes British singer-songwriter Louisa Allen — not to be confused with British singer-songwriter Lily Allen — won a Grammy before releasing her first album. Now, she's touring with Coldplay.
Harvey, PJ Singer-songwriter and composer Harvey has been tapped to score a new production of The Nest to premiere in Belfast in October. It's by no means her first foray into theater, though; she previously scored Hamlet and Hedda Gabler for director Ian Rickson.
M.I.A. Though Beyoncé, Drake, and Rihanna are presumably thrilled about the recent MTV VMA nominees announcement, there's one who isn't quite so impressed: rapper M.I.A., who declared the snub for her video "Borders" was due to "racism sexism classism elitism" in a stream of tweets Thursday morning.
Richie, Nicole Reality TV star, "rug junkie," and non-listener of new music Nicole Richie returns to the small screen with a new Tina Fey sitcom Good News. Is it?