Justin O'Shea Is Out, Gigi Hadid Is In
After just six months, Brioni has parted ways with its street style star-slash-creative director, while Gigi Hadid takes her boxing to a new arena.
---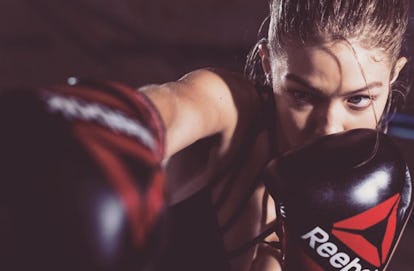 @gigihadid
Beckham, Victoria Posh Spice has gone from pop star to bona fide designer. Now, she's collaborating with Estée Lauder so you can get her faintly slept-in looking eyeliner — and she's opening up about her process and perfectionism.
Hadid, Gigi Supermodel, avid boxer, new Reebok campaign star.
Meadows, The The fall festival by the creators of Governor's Ball couldn't catch a break on the music front — The Weeknd cancelled, and Kanye West cut his set short when he learned wife Kim Kardashian had been robbed in Paris — but Flushing's best dressed attendees didn't skimp on the fashion front.
Muna The Los Angeles-based trio is about to hit the road with Dilly Dally and Grouplove, bringing their retro-inflected, futuristic pop to a whole new audience.
O'Shea, Justin After just over six months and a few Metallica campaign ads in his stead as creative director, Justin O'Shea — My Theresa's former fashion director and a street style favorite — is parting ways with Brioni.
Thurman-Hawke, Maya Uma Thurman and Ethan Hawke's 18-year-old daughter is an aspiring actress, but her new gig as the face of All Saints will be great for spending money, too.
Trump, Donald Over 30 years of reporting on Donald Trump, at GQ, at Spy, and finally at Vanity Fair, VF editor-in-chief Graydon Carter recalls Trump's most defining moments and the tweet storm he's left in his wake.
See W's most popular videos: