Hat Tricks
Heads up: The fashion world's newest milliner is hardly run-of-the-mill.
---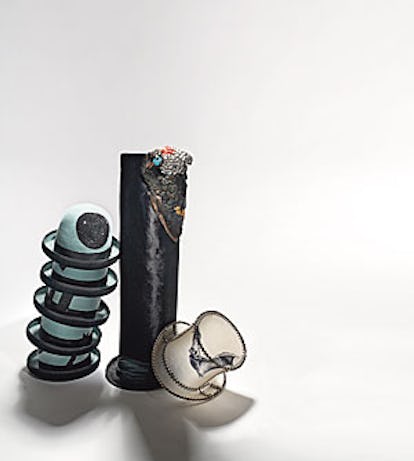 Ask Justin Smith where he gets his inspiration and he'll shrug and offer a rather ambiguous response. "I don't know. It comes from my brain somewhere," says the Devon, England, native. Perhaps Schiaparelli, I ask, pointing out two of his most fanciful hats—a tutu-shaped chapeau made from strips of pleated pink tulle, and a topper fashioned from eight martial-arts fans bundled together. Maybe there's a hint of the surrealists there? "I can be really, really random.… It's an organic process," Smith continues to nonanswer, though he finally admits to at least one exceptional muse: "I like Diane Arbus."
Arbus, as far as fashion influences go, comes out of left field. Then again, so does this new player in the English millinery world, who received his M.A. from the Royal College of Art last May. Forget tradition; Smith's debut made-to-order line, J Smith Esquire, is the sort of collection Federico Fellini might have launched if he had done hats.
Justin Smith
One design is covered in tiny whirling leather pinwheels; another comes in the shape of a delicate Twenties finger wave. Smith himself could qualify for a part in Fellini's famous character tableaux: He sports a gold tooth, a bristly Dalí-style mustache—both of which make him appear older than his 29 years—some serious tattoos and weighted tribal earrings that drag down his lobes. And this, he notes, is the cleaned-up version of himself. Smith went on a body piercing spree about a decade ago, racking up a total of 35. "Most were on my face—ears, nose, lips, tongue," he recalls during an interview at Maria Luisa's accessories boutique in Paris, where his collection was shown during the city's spring Fashion Week. Today he's dressed dapperly in a button-down, pullover and trousers, all by Vivienne Westwood, but the contrast between his punk figure and the store's posh surroundings is still obvious. "I took [the piercings] all out when I was 23, 24," Smith goes on. "They were uncomfortable." All that remains now is a barbell above the bridge of his nose, smack between his eyes.
As a teenager growing up in what he describes as a "quite conventional English" household, Smith always felt like the odd man out. "I was the extreme one, with zebra-striped hair," says the designer, who has two brothers—an accountant and a mechanic. But Smith's tale doesn't involve a childhood spent escaping from the mundane to his mother's closet, going Edward Scissorhands on her old accessories and clothes. He didn't even grow up in a particularly hat-obsessed, or even fashionable, home. His entrée into the industry came by way of the culinary world. Smith originally wanted to become a chef.
After a few years working at a local bakery, however, he decided "it wasn't creative enough" and switched, at age 18, to a career in hairdressing. So he packed up and moved from his hometown to London, scoring jobs at Toni & Guy and its sister company, Essensuals. The shift isn't as odd as it sounds. "I used to make all the icing patterns on the cakes," he explains. "It's sculpture, the idea of shape." Smith spent the next five years working his way up, eventually becoming Essensuals' creative director while also taking on numerous avant-garde gigs, which basically meant "having a higher percentage of [clients] with asymmetrical haircuts and radical colors," he says. It also included a bevy of styling competitions. "I shaped hair into butterflies or lilies. The craziest thing I ever did was a collection based on London architecture, like the Millennium [footbridge]," he recalls. In 2002 Smith branched out on his own and opened a private salon named And People Like Us in London's Soho district. He still works there three times a week.
J Smith Esquire's leather, wood and steel hat made from eight martial-arts fans.
These days, however, there are no Big Ben coiffures coming out of his parlor. Smith says he gives mostly routine haircuts now (the occasional asymmetrical bob notwithstanding), saving the creative finger work for his millinery. "That's where the hats really started from," he says. "I had taken a hat class to help me with the avant-garde hair, and when I left Toni & Guy, I had no reason to do that [experimental] stuff anymore. So I did hats. I could explore more bonkers creations through that."
Bonkers, indeed. One design in his J Smith Esquire collection, known as the "whip hat," is shaped like an abbreviated question mark. Embellished with Victorian French jet beading, it has a spray of curled coq feathers rising from the top. Smith gestures to a large flat-screen television near the entrance of Maria Luisa for an explanation. It's currently playing, on a loop, video from his Royal College of Art graduate presentation. The hat's concept is immediately obvious: A Rubenesque redhead, dressed in a waist-sucking corset, jacket and knee-high boots, is wearing the piece, and she's power-charging down the runway, bullwhip in hand. "She's the first lady to come out," Smith says. "And when she cracks the whip, the feathers [in the hat] actually whiplash. I wanted it to be about hats as performance rather than just a hat."
To that end, in a move reminiscent of John Galliano's spring 2006 collection, Smith enlisted a number of carnival characters, many of them friends, to wear his designs in the show. That redhead is Lucifire, a performance artist–cum–flame eater. London burlesque entertainer Empress Stah, meanwhile, came down the catwalk in an enormous five-foot-wide sun hat and little else. And then there were a giant and a dwarf, Big Grey and Little Ray, who walked together in matching brushed-silk and felt top hats—except the dwarf's was three feet high and the giant's, squashed down to two inches. "The idea was that they would both be the same height," Smith says. Yet another model juggled a stack of felt bowlers, and two of Smith's tattoo artists donned translucent pigskin toppers decorated with tattoo imagery. If that wasn't enough, he closed the show by sending out the proverbial fat lady—singing, natch. She wore a dainty floral hat.
Of course, sometimes there's a vast chasm between runway and reality. Thus, in January, Smith is launching Mister Smith, a diffusion line; a month later he'll also introduce a ready-to-wear collection under the J Smith Esquire label. Though he bills those offerings as more wearable, they still steer clear of run-of-the-mill or normal.
"Each hat has a character," Smith says. "It's a complete mixture of different things—like me. I'm a real traditionalist and a bit of a dandy, but I've also got the funny ears and the big tattoos."