Kardashian Favorite Shamari Maurice Is the Epitome of a Social Media Star
We asked the social media star, model, and aspiring actor really important questions like: Snapchat or Instagram stories?
---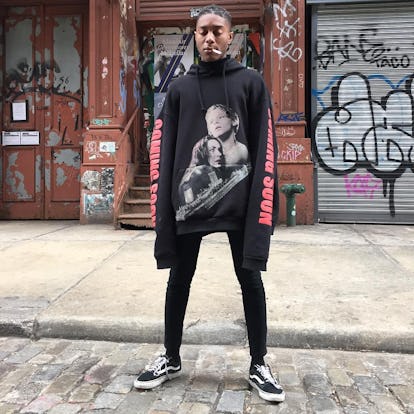 Shamari Maurice, 19, is the epitome of what it means to be a social media star in 2016. He runs with a crowd of young influencers like Kylie Jenner, Sofia Richie, Sarah Snyder, Eileen Kelly, and Luka Sabbat. He's originally from Los Angeles, but says he goes "back and forth" to New York a lot, bouncing from pool parties to NeverNever at night. He has over 325,000 followers on Instagram and has made the news cycle for his posts with Kim Kardashian. He's also modeled for VFiles, but wants to be an actor and a singer. You get the picture.
"Basically, I'm just trying to kill the entertainment industry in the next year," Maurice says of his professional goals. (He turns 20-years-old in six days.) In the meantime, he's making a name for himself on the internet with his stylish selfies and endless stream of Snapchats.
Do you remember when you first joined Instagram and what your first post was? I do actually! I was team Blackberry ride-or-die, and finally it broke and my parents bought me a white iPhone 4 in 9th grade. I legit was so pissed. I was so confused, though, because all my friends would take these pictures but I would never see them on Facebook. And then I made an Instagram on my iPhone and I was like, Whoa. My first post was with my old friend Kristie.
Greatest hits: When I post pictures of my clothes people really f–k with that. It was so weird, on Christmas I posted a picture with Kim Kardashian and it was on the news because she simply smiled. Lol.
Three hashtags that describe your Instagram: Hashtag furry (I love a fur coat), hashtag random, hashtag emotionallyunavailable. And bonus hashtag: obnoxious.
Personal icons/inspirations: Steve Jobs, Kanye West, Zoe Kravitz, Jean-Michel Basquiat, Kim Kardashian West, Edward Enninful, myself, Elaine Welteroth, Vic Mensa.
What do you think strangers think about you when they come to your profile? What do you want them to think? And does it differ at all from your real life? Unfortunately, I think strangers think I'm a b–ch when they come to my profile, and that's only half true. I guess in a way it's my fault because I don't really smile in posts and I post what I want the world to see because I'm actually really private. I don't want them to think that. I'm not sure what I want the world to think yet; that's something I've been battling for the last year. It is very different from my actual life, though.
Have you met anyone through social media? If so who, and are you still in touch? Have you ever had a falling out because of social media? I hate meeting people over the internet, it's so awkward. I have met one friend through DMs. I thought she was so cool and we hit it off and became so close for a period of time. I have never really had a falling out because my close friends know I take the internet with a grain of salt. If you get offended that I don't follow you or whatever then you're insipid and irrelevant to me.
You are friends with a lot of social media stars. Have you ever learned anything about their lives via the internet before you knew IRL? Yeah I am, haha. Of course, you run across people on the internet every day. Everything is so available, so you'll see who they've hung out with or whatever. I never have pre-conceived notions though, because I assume people have pre-conceived the worst about me.
Social media pet peeve: I hate when people immediately take your phone and follow themselves.
Something you would never post: For some odd reason I would never post a picture on a private plane. Maybe later on in life. I've been on many, I just think it's so extra to post, haha.
Top 5 favorite accounts to follow: @gabbriette, @lucasbinn, @kimkardashian, @sofiarichie, and Lily-Rose Depp.
How do you unplug? If you mean relax, I unplug by taking NyQuil and watching anything by Shonda Rhimes.
What's next for you? What are some of your goals? I just started acting, so I've been going out for some super sick stuff. Hopefully that takes off. I got more into the modeling industry, which is cool. And I want to get into music. I've been taking singing lessons. Seeing Vic [Mensa] make music was so fascinating and made me wanna go crazy. Basically, I'm just trying to kill the entertainment industry in the next year.
Favorite stores in Los Angeles: Maxfields, Fairfax Flee Market, Opening Ceremony, H. Lorenzo, Goodwill.
Favorite app(s) right now: I'm obsessed with Snapchat. I stopped using Instagram for a second 'cause I was so obsessed. I love this app called Fancy as well.
Snapchat stories or Instagram stories? Snapchat! But I can tell I'm going to lean over to Instagram.
Your last tweet was: My last tweet was replying to this kid because he didn't like the movie Suicide Squad and I loved it. Why do people not like it?
Your last Instagram was: My last Instagram was with my friend Joel. He's a model. It was at this day pool party. Before that, I hadn't posted a photo in so long. I need to get back in the game. People have been coming for me.