Meet Red Velvet, K-Pop's Latest Sensations
Spending a little time in the bubble of K-Pop stardom, where everyone is forever young, beautiful, and oh so innocent.
---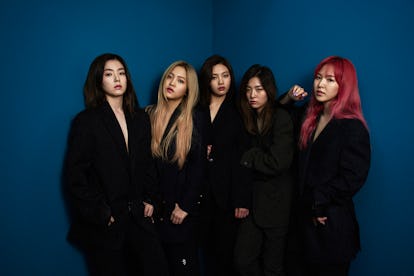 It's just after 9 p.m. on a Saturday night in Seoul, and the five members of the K-Pop super girl group Red Velvet are seated quietly around a wooden table at a photo studio. They're surrounded by a room full of people—their manager from S.M. Entertainment, a glam team, a photo producer, a few other assistants—on hand to make sure their W shoot goes according to plan.
But Wendy, Seul-gi, Irene, Joy, and Yeri (ages 23, 23, 26, 21, and 18, respectively) seem numb to their surroundings as they stare intently at the candy-colored cell phones in their grips. (Their pastel-colored nails just happen to match their phone cases.) Later, the girls revealed they've only just recently been allowed to have cell phones of their own, which seems quite odd for teens and 20-somethings who live in a tech-focused country where Samsung is omnipresent.
But these are K-pop stars we're talking about, and they live in a very closely-monitored, insular world. Their cultural points of reference, however, seem to be no different from any millennial's in America. "Do you know who Ariana Grande is?" asked me Yeri, who has long, lank blonde hair and green contacts. She pointed at Grande's Instagram on her iPhone. "I love, love, love Ariana Grande. She is so pretty!" she gushed.
Wendy, who has bright red hair at the moment, declared, "I like Beyoncé, and while watching her performance I think about what we could apply to our own performances. And I personally love Jessie J." The rest of the group quickly nodded in agreement.
The funny thing is, here in South Korea, these five are well on their to way to achieving the fame of an Ariana Grande. And yet, they don't seem to have project any sense that this might be the case. Red Velvet, which debuted their first single, "Happiness," in 2014 after S.M. Entertainment brought them together, is one of the top K-Pop groups of the moment. Their first full-length album The Red, which came out last September, topped the Billboard World Albums Chart. They've won multiple major music awards in Korea; their two debut music videos in 2014 were the most watched videos in Korea the month they came out; and they have over one million Instagram followers on their joint account, @redvelvet.smtown. (They aren't allowed to have their own individual social channels.)
Their millions of fans are ravenous for information about them, clamoring to know details down to their blood types. Whenever they are spotted in public, the K-paparazzi goes mad. With the rise of a global K-pop obsession, Red Velvet's stardom has soared to a level its young members can't quite grasp yet.
When they did their first-ever U.S. performance last year, at the Staples Center in Los Angeles, they were surprised to find fans waiting for them at Los Angeles International. "We didn't expect foreigners knowing and singing along with us, but it was amazing," said Seul-gi, the group's lead vocalist along with Wendy. "The crowd had great reactions and it felt as if they were enjoying our performance. I want to go back because of this good memory."
The girls are making their return to L.A. this May to perform at the Hollywood Bowl. They're hoping for a little more time to explore the city this time around. "We didn't make it to the beach," Yeri lamented. "But we went to Universal Studios, and went shopping at Victoria's Secret and Bath & Body Works!" Wendy exclaimed.
The others, who don't speak much English, squeal collectively in recognition at those brand names. For a group of young pop starlets, however, they don't seem overly obsessed with fashion in the way one might expect. "I don't know Korean brands," confessed Yeri, who was in a pink Sandro dress. "We just wear whatever fits us and looks good on us depending on our styles," added Irene.
The business of being K-pop stars isn't quite so laissez-faire as she made it sound, of course. There are stylists and wardrobe consultants hovering to keep them in line with the Red Velvet image. And for the record, their name has nothing to do with Red Velvet cake. (But they admit they do love it.) Instead, it is meant to signify the group's dual personality: Red for the girlish side; velvet for the ladylike, softer side. It's a duality that informs both their youthful aesthetic and their more mature, R&B and rap-infused pop sound.
But in Korea, the land of beauty, everyone has strong opinions about makeup, even highly produced K-pop stars. "I love lipstick, lip tint, all lip colors," Joy gushed. "I have a big box of them at home." And, of course, they all love a good face mask. (Face masks are ubiquitous here; you can find everything from snake venom to honeycomb to horse masks at just about any drug store in Seoul.) "Korea has the best masks," said Wendy. "The snail ones, oof! Tea tree stuff is good, too, and [the] whitening stuff, and honey."
These are the types of things they do together when they aren't performing in front of hundreds of thousands of people: they put on makeup and face masks and hold sleepovers in their living room in Seoul (they all live together). "We talk all night long and we don't sleep much," said Joy. Seul-gi added, "We have speakers in the living room and we play our favorite songs while dancing to the music and singing along."
If this lifestyle seems like a very purposeful construct, it may be because K-Pop stars, relative to the Miley Cyruses of the world, are not meant to exhibit flaws or bad judgment. These stars are put through years of training camps, far removed from the world, to achieve a Teflon youth and beauty—and the standards to which their fans hold them are as fiercely exacting as that of their management.
With a lifestyle program that includes rigid diets, plastic surgery, and dating restrictions (they are supposed to maintain a "virgin" image), K-Pop stars seem to be living in an alternate universe. In person, the members of Red Velvet presented themselves as delightfully normal relative to the image of the K-Pop star we've come to know. They were gracious, curious, and, at times, even goofy. Not once did they show any sign of the diva attitude endemic to young American starlets.
As I made my exit, Yeri asked me a question that Ariana Grande would never even think of: "Can I take a selfie with you?"
Watch W's most popular videos here:
Who's Who: Meet the Beautiful People of Seoul Fashion Week
Spending a little time in the bubble of K-pop stardom, where everyone is forever young, beautiful, and oh so innocent.
Hair by Ji Sun Han, makeup by Ho Sook Kwon. Producer: Biel Parklee. Local Production: Intoo Creative Group. Translator: Soo Ryn Lim.