Kaelen Haworth's Style Philosophy: You Do You
Doesn't get much simpler than that. The designer on personal fashion, killer heels and the importance of fit.
---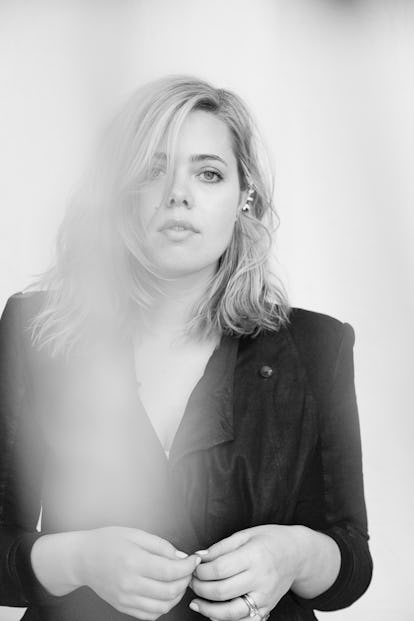 Kaelen Haworth's namesake line KAELEN is a favorite of the likes of Elizabeth Banks, and Vanessa Hudgens. But the designer's own personal style is equally enviable. After recently toasting her Spring campaign, starring Angela Lindvall, with a stylish crowd in New York, Haworth breaks down her best style tips, fall must-haves, and favorite pieces from her new collection.
Define your label in three words: Clean, feminine, thoughtful.
Daily uniform: Jeans and a sweater in the winter; shirtdress in the summer.
Greatest hits: Elizabeth Banks wearing the Fall 2015 metallic jumpsuit was so good—she looked incredible. The striped button down from Spring 2015 is a staple in my wardrobe. Also our signature trench, which we have done in a few different fabrications, is a classic. I wear it almost year round in different variations.
Preferred footwear: Common Projects slip-ons, Stan Smiths, Acne loafers, Nike frees, and Acne boots for winter.
Finishing touches: Vintner's Daughter serum (it's actually magic potion), Le Labo Rose Oil perfume, my Eva Fehren rings – the X ring, Shorty, my wedding band, and plain diamond rings she made custom for me.
Nighttime look: My black tent dress with killer heels and red lipstick.
Best recent discoveries: Almoco Flatware in black from Design Within Reach, Santina on Washington Street, Thepurplecarrot.com.
Best style advice from mom: If it doesn't fit properly, it won't look good. No exceptions.
Lusting after: Fritz Hansen Daybed in Nude Leather from The Line NYC.
Last purchase: An almond milk latte from BlueBird Coffee shop around the corner from my house.
Favorite haunts: The Smile, Lucien, Chez Omar & Café Charlot in Paris, Flora Farms in San Jose del Cabo, Mexico, Rock Island Coffee in Bermuda, F'Amelia in Toronto.
Style pet peeve: Functional items that are being used purely for aesthetic purposes, like a superfluous belt. That said—style is inherent and just because some people don't get it doesn't mean you aren't miles ahead of the curve, so do you.
Style icons: Jeff Bridges, Tilda Swinton, Marion Cotillard, Cate Blanchett, Michele Lamy.
Fall must-haves: The Mock Neck Turtleneck from my Fall Winter Collection, Falke socks, Acne pistolboots, Glossier Coconut balm dotcom, massive Destin scarves from The Line.
What's always in your bag: Spare notebooks, sketchbooks and pens, various lipticks and lip balms, keys, black Proenza wallet, Frends headphones, and probably old receipts.
Photos: Kaelen Haworth's Style Philosophy: You Do You
Kaelen Haworth. Courtesy of the designer.
KAELEN Spring 2016 "I am obsessed with our Pleat Sleeve Cotton Shirt (seen here layered under the suede jumpsuit). It's a classic fabric, and a simple silhouette, but the drama of the pleat sleeve makes it emotional and exciting."
KAELEN Spring 2016 "I chose Angela because I wanted someone who my customer would know and connect with, and also recognize as a real woman (who happens to be incredibly beautiful, but still relatable somehow). This slip dress is a classic shape for KAELEN and it's really amazing layered over knits."
TK Wonder and Cipriana Quann wearing KAELEN. Photo by BFA.
KAELEN Spring 2016 "This image is so strong. We wanted to show her as she was in the space. Angela is so commanding that you barely notice the background noise. I love this styling—another classic shirting fabric in a new shape layered under our side-tie suede vest."
Jessica Joffe in KAELEN. Photo by BFA.
KAELEN Spring 2016 "The soft colors of the collection really work well together, but the layering still makes a strong statement. The cotton tank is layered over a sweater tunic and our classic culotte shape, which I love."
KAELEN Spring 2016 "We've been focusing on adding really special knitwear in recent collections, and this piece really stands out for me. It's a beautiful blue grey racer-back sweater dress that is so sexy and so easy. We didn't feel the need to accessorize this look because she just looks so effortless."
Hannah Bronfman in KAELEN. Photo by BFA.
Kaelen Haworth. Courtesy of the designer.
May Kwok in KAELEN. Photo by BFA.