Kaia Gerber Shot Her Own Perfume Ad in Lockdown (and in a Cast)
Nothing comes between Kaia and her Marc Jacobs Daisy.
---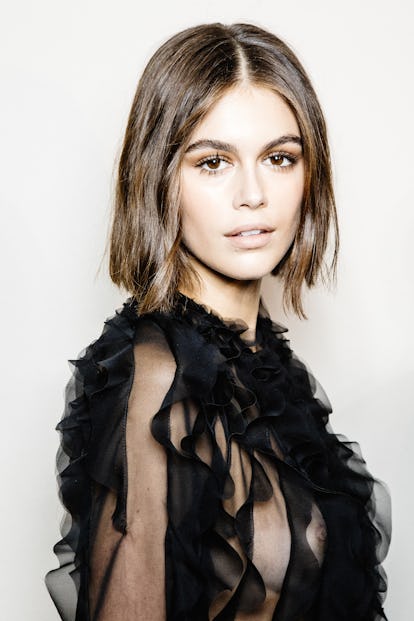 Rosdiana Ciaravolo/Getty Images
Serving as the face of Marc Jacobs was one of Kaia Gerber's first major modeling gigs, and it's one the 18-year-old still takes very seriously. She won't let obstacles like lockdown, social distancing, or a dislocated wrist get in the way of promoting the perfume. In fact, just days after revealing on Instagram that her arm is now in a cast, Gerber debuted her own self-shot social media campaign.
Wearing a flouncy white dress and standing in a California field, Gerber looks every inch the Daisy girl. Though, swipe through to the next slide, and you'll find that Gerber's injury makes it a bit difficult to actually apply the scent. She eventually has to settle for the old Queer Eye chestnut of "spray, delay, and walk away" (which isn't actually the best way to get the apply designer fragrance, but, we suppose, works in a pinch). "Even with your arm in a cast! Fantastic," Jacobs himself commented.
Gerber revealed her injury three days ago in a bikini selfie uploaded to Instagram. "[H]ad a little accident but I'm okay!" she wrote. It appears the injury was to the wrist, but Gerber was fitted with a cast that goes past her elbow. Eagle-eyed fans may also notice that Gerber debuted a new, slightly blonder shade of hair along with the cast. No word on what caused the injury, however.
Gerber has had a particularly busy time in lockdown. She's played guitar with her dad, showed off her dance moves on TikTok, and started an Instagram-based book club (this week's selection: Play It As It Lays by Joan Didion, which she'll discuss on Friday with fellow model Emily Ratajkowski).
Related: Cara Delevingne and Kaia Gerber Are Self-Isolating on TikTok