Kaia Gerber Is Already Topping Kendall Jenner and the Hadids at Instagram by Engagement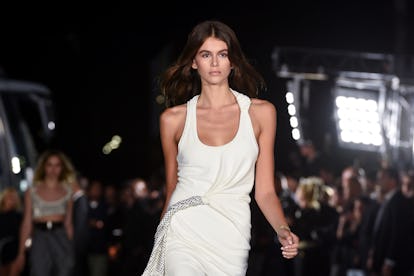 Presley Ann/Getty Images
You can probably guess who the most followed models on Instagram are without even really thinking about it. The top four includes Kendall Jenner, both Hadids, and Cara Delevingne. Despite Kaia Gerber's considerable buzz in the industry, she's nowhere even close to those Instagram queens (yet, anyway). She's approximately 84.7 million followers behind Jenner in first place. And yet, Gerber is beating all those others in one very important Instagram metric: follower engagement.
It's a matter of quantity vs. quality, and while Gerber may not command seven figures worth of followers yet, her average follower is much more likely to watch her videos, comment on her posts, and smash that like button. Think of her right now like a cult TV show with a rabid fanbase even if it isn't yet a ratings juggernaut. Granted, it's hard to keep 38.5 million followers (Gigi Hadid's count) as engaged as say, a few thousand diehards, but engagement is nothing to brush off either, especially as Instagram continues to fine-tune its algorithm.
The data comes directly from Instagram's latest rundown report analyzing fashion-focused accounts (and we should note that when they say "models" they actually mean "fashion models," not just anyone who happens to put "model" in their Instagram bio). While there was no change in the overall followers leader board, the engagement metric does bear out some surprising social media superstars alongside Gerber.
It was actually Ukranian model Julia Ratner, who dubs herself a member of the "Elfish Elite" in her bio, who has the most engaged followers of all the runway walkers, despite a relatively humble 39.2k followers. She also happens to be a frequent cover girl in her native country; Nigerian model Mayowa Nicholas comes in second. Here's a rundwon of the top 10:
1. Julia Ratner
Total Follower Count: 39.2k
Recent Runways: Prabal Gurung, Valentino, Chanel, Dior.
2. Mayowa Nicholas
Total Follower Count: 52.7k
Recent Runways: Alexander Wang, Michael Kors, Off-White, Dries Van Noten.
3. Paulina Frankowska
Follower Count: 16.4k
Recent Runways: Akris, Armani, Maison Margiela.
4. Léa Julian
Follower Count: 23.3k
Recent Runways: Marc Jacobs, Gucci, Coach.
5. Presley Gerber (the only male model to make the list)
Total Follower Count: 592k
Recent Runways: Balmain, Tommy Hilfiger.
6. Kaia Gerber
Total Follower Count: 2.9m
Recent Runways: Versace, Moschino, Calvin Klein.
7. Yasmin Wijnaldum
Total Follower Count: 63.6k
Recent Runways: Moschino, Anna Sui, Brandon Maxwell.
8. Vittoria Ceretti
Total Follower Count: 303k
Recent Runways: Alexandre Vauthier, Proenza Schouler, Chanel.
9. Lauren de Graaf
Total Follower Count: 102k
Recent Runways: Guo Pei, Armani, Chanel.
10. Selena Forrest
Total Follower Count: 45.9k
Recent Runways: Victoria Beckham, Calvin Klein, Jason Wu, Alexander Wang.
Of course, today's buzzy sensation is tomorrow's superstar, and we wouldn't be surprised to see any of these models' follower count rise along with their careers.
Related: Supermodel Kaia Gerber, Just 16, Is Now Also Designing Clothes with Karl Lagerfeld
Kaia Gerber on the Runway: See All the Rising Supermodel's Fashion Show Appearances So Far
Model Kaia Gerber walks the runway at the Alberta Ferretti show during Milan Fashion Week Spring/Summer 2019 on September 19, 2018 in Milan, Italy. Photo courtesy of Getty Images.

Estrop
Model Kaia Gerber walks the runway at the Versace show during Milan Fashion Week Spring/Summer 2019 on September 21, 2018 in Milan, Italy. Photo courtesy of Getty Images.

Getty
Kaia Gerber walks the runway at the Moschino Ready to Wear fashion show during Milan Fashion Week Spring/Summer 2019 on September 20, 2018 in Milan, Italy. Photo courtesy of Getty Images.

Victor VIRGILE
Kaia Gerber walks the runway at the Salvatore Ferragamo show during Milan Fashion Week Spring/Summer 2019 on September 22, 2018 in Milan, Italy. Photo courtesy of Getty Images.

Daniele Venturelli
Kaia Gerber walks the runway at the Fendi Ready to Wear fashion show during Milan Fashion Week Spring/Summer 2019 on September 20, 2018 in Milan, Italy. Photo courtesy of Getty Images.

Victor VIRGILE
Model Kaia Gerber walks the runway at the Max Mara show during Milan Fashion Week Spring/Summer 2019 on September 20, 2018 in Milan, Italy. Photo courtesy of Getty Images.

Estrop
Kaia Gerber walks the runway for Ralph Lauren fashion show during New York Fashion Week on September 7, 2018 in New York City. Photo courtesy of Getty Images.

Victor VIRGILE
Kaia Gerber walks the runway at the Tom Ford fashion show during New York Fashion Week at Park Avenue Armory on September 5, 2018 in New York City. Photo courtesy of Getty Images.

Slaven Vlasic
Model Kaia Gerber walks the runway for Anna Sui during New York Fashion Week: The Shows at Gallery I at Spring Studios on September 10, 2018 in New York City. Photo courtesy of Getty Images.

Frazer Harrison
Model Kaia Gerber walks the runway for Calvin Klein Collection during New York Fashion Week at New York Stock Exchange on September 11, 2018 in New York City. Photo courtesy of Getty Images.

Slaven Vlasic
Model Kaia Gerber walks the runway at the Sies Marjan show during New York Fashion Week on September 9, 2018 in New York City. Photo courtesy of Getty Images.

Slaven Vlasic
Kaia Gerber walks the runway at the R13 Spring/Summer 2019 fashion show during New York Fashion Week on September 8, 2018 in New York City. Photo courtesy of Getty Images.

Victor VIRGILE
Kaia Gerber walks the runway at the Alexander Wang Collection 1 show at Pier 17 on June 3, 2018 in New York City. Photo courtesy of Getty Images.

JP Yim
Kaia Gerber walks the runway during the Chanel Fall 2018 show as part of Paris Fashion Week on March 6, 2018 in Paris, France. Photo courtesy of Getty Images.

Estrop
Kaia Gerber walks the runway during the Miu Miu Fall 2018 show as part of Paris Fashion Week on March 6, 2018 in Paris, France. Photo courtesy of Getty Images.

Peter White
Kaia Gerber walks the runway during the Sacai Fall 2018 show as part of Paris Fashion Week on March 5, 2018 in Paris, France. Photo courtesy of Getty Images.

Estrop
Kaia Gerber walks the runway during the Chloe Fall 2018 fashion show as part of Paris Fashion Week on March 1, 2018 in Paris, France. Photo courtesy of Getty Images.

Victor VIRGILE
Kaia Gerber walks the runway during the Valentino Fall 2018 show as part of Paris Fashion Week on March 4, 2018 in Paris, France. Photo courtesy of Getty Images.

Victor VIRGILE
Kaia Gerber walks the runway during the Isabel Marant Fall 2018 fashion show as part of Paris Fashion Week on March 1, 2018 in Paris, France. Photo courtesy of Getty Images.

Victor VIRGILE
Kaia Gerber walks the runway during the Isabel Marant Fall 2018 fashion show as part of Paris Fashion Week on March 1, 2018 in Paris, France. Photo courtesy of Getty Images.

Victor VIRGILE
Kaia Gerber walks the runway during the Off-White Fall 2018 fashion show as part of Paris Fashion Week on March 1, 2018 in Paris, France. Photo courtesy of Getty Images.

Victor VIRGILE
Kaia Gerber walks the runway during the Saint Laurent Fall 2018 show as part of Paris Fashion Week on February 27, 2018 in Paris, France. Photo courtesy Getty Images.

Pascal Le Segretain
Kaia Gerber walks the runway at the Prada Fall 2018 show during Milan Fashion Week on February 22, 2018 in Milan, Italy. Photo courtesy Getty Images.

Venturelli
Kaia Gerber walks the runway at the Fendi Fall 2018 show during Milan Fashion week on February 22, 2018 in Milan, Italy. Photo courtesy of Getty Images.

Venturelli
Model Kaia Gerber walks the runway at the Alberta Ferretti Fall 2018 show during Milan Fashion Week on February 21, 2018 in Milan, Italy. Photo courtesy Getty Images.

Victor Boyko
Kaia Gerber walks on the runway at the Moschino show during Milan Fashion Week on February 21, 2018 in Milan, Italy. Photo courtesy of Getty Images.

Pietro D'aprano
Kaia Gerber walks the runway for Anna Sui during New York Fashion Week: The Shows at Gallery I at Spring Studios on February 12, 2018 in New York City. Photo courtesy of Getty Images.

Frazer Harrison
Kaia Gerber walks the runway at the Anna Sui Ready to Wear Fall/Winter 2018-2019 fashion show during New York Fashion Week on February 12, 2018 in New York City. Photo courtesy of Getty Images.

Victor VIRGILE
Kaia Gerber walks the runway during the Marc Jacobs Fall 2018 Show at Park Avenue Armory on February 14, 2018 in New York City. Photo courtesy of Getty Images.

Slaven Vlasic
Kaia Gerber walks the runway for Calvin Klein Collection Ready to Wear Fall/Winter 2018-2019 fashion show during New York Fashion Week on February 13, 2018 in New York City. Photo courtesy of Getty Images.

Victor VIRGILE