Kamala Harris Wears Christopher John Rogers, a Heralded Black American Designer, For Inauguration
Her inaugural wardrobe has highlighted Black American designers like Pyer Moss and Christopher John Rogers.
---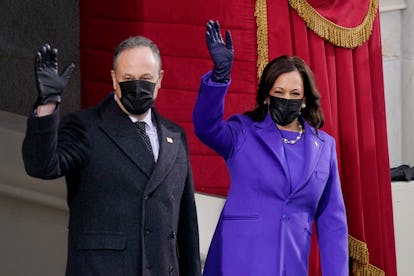 Photo courtesy of Getty Images.
The question of which designers Kamala Harris might wear during her tenure as Vice President has been on a lot of minds lately. Particularly, many wondered if she would double down on the rumor that she might only wear clothes made by American designers.
Now, it would appear that the Vice President is indeed going all the way up for Black American designers. At the Covid-19 memorial service in Washington D.C. on Tuesday night, Harris was spotted wearing a camel colored coat by Kerby Jean-Raymond of Pyer Moss, the New York designer who led the charge last year when it came to fashion's contributions to battling the coronavirus pandemic. On Wednesday morning, she followed that up by reportedly wearing a purple look from Christopher John Rogers to the inauguration ceremony. (The purple is a nod to Shirley Chisholm, the first African-American woman to run for President of the United States.) She accessorized with her signature pearls, which are a nod to her Alpha Kappa Alpha sorority, and rather than her Converse Chuck Taylors, she opted for a pair of heels by Manolo Blahnik.
Rogers, whose designs are often voluminous and saturated with bright colors, won the CFDA Emerging Designer of the Year award and has been a favorite among celebrities from Zendaya to Lizzo. In 2019, former First Lady Michelle Obama also stepped out in one of his shimmering green suits during her Becoming book tour.
The decision to wear clothes by Black American designers is no doubt a signal toward how the Biden-Harris administration plans to support and address the issues faced by the African-American community in the United States. And the decision to wear Pyer Moss and Christopher John Rogers signals another thing—good taste.
Related: Kamala Harris's Converse and the Political Evolution of the Sneaker