R.I.P. Kansai Yamamoto, the Japanese Designer Behind Ziggy Stardust
Before closely collaborating with David Bowie, Yamamoto became one the first Japanese designers to show in Europe.
---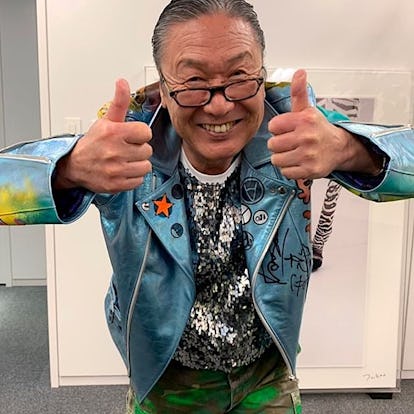 Courtesy of @kansai_yamamoto_official
Last week, the designer Kansai Yamamoto passed away from acute myeloid leukemia at the age of 76. His team is still going forward with its first online streaming event, the Nippon Genki Project, later this week. The concept of genki, which Yamamoto defined as "cheer/energy," is one he frequently meditated on in the months before his death. "I was deeply shocked by hearing the diagnosis, but the first thing I started to do was to prepare a very colorful pajama to stay cheerful and happy at the hospital," the designer wrote in an update on his condition earlier this year.
Even if you don't recognize Yamamoto's name, there's a good chance you're familiar with his designs. That's thanks in large part to the late David Bowie, who worked with the designer to create Ziggy Stardust, his alter ego. Bowie began wearing Yamamoto's womenswear in 1971, the same year that Yamamoto became the first Japanese designer to show at London Fashion Week. (It would be a full decade before luminaries like Yohji Yamamoto and Rei Kawakubo also headed to the catwalks of Europe.)
In fact, when Yamamoto first glimpsed Bowie, Bowie was already wearing his designs: The singer descended from the ceiling of Radio City Music Hall atop a disco ball, stripping off an entirely black ensemble to a colorful Yamamoto one in a kabuki movement known as hikinuki.
"I approached Bowie's clothes as if I was designing for a female," Yamamoto recalled in 2018, when a number of his greatest hits with Bowie went on display at the Brooklyn Museum. "Notice there is no zipper in the front." He was well aware just how ahead of their time he and Bowie were in embracing genderless and "radical appearance": "Today, lesbian and gay people today are gaining more rights and acceptance, but when I was working with David, that community did not have the same rights," Yamamoto told The Cut later that year. "I found David's aesthetic and interest in transcending gender boundaries shockingly beautiful."
"David loved his work," Mick Rock, who frequently photographed Bowie performing in Yamamoto's designs, recalled on Instagram on Monday. Bowie's wife, Iman, also paid tribute to the designer, revisiting Yamamoto designs like an asymmetrical knit jumpsuit and a teensy printed romper that barely covered an inch of Bowie's thighs. (Kate Moss wore the latter to receive a Brit Award on Bowie's behalf in 2014.)
While never as publicly recognized as Kawakubo and other contemporaries, Yamamoto has long been one of the industry's cult favorites, referenced by everyone from the up-and-coming designers behind Puppets and Puppets to industry vets like Jean Paul Gaultier, Nicolas Ghesquière, and Raf Simons. He was formative to Marc Jacobs, who on Monday recalled Yamamoto "giving me the wings I needed to fly" when he was all of 17. Anna Sui also collaborated with Yamamoto, and described the experience as "truly a dream come true." "I still own all the pieces that I bought that day," Sui said of her visit to Yamamoto's Tokyo store, made on her first work trip to Asia. "They are a treasure and true inspirations that made me love fashion and encouraged me to be a fashion designer."
See more of Yamamoto's pioneering work in the below tributes from designers, stylists, and more industry figures like Pam Hogg and Melanie Ward.
https://www.instagram.com/p/CDJUL3fg6wt/