Kanye West's Bid for President Ends With Just 60,000 Votes
The final results of the 2020 Presidential Election are still up in the air, but one thing is clear: Kanye West will not be the next Commander-in-Chief.
---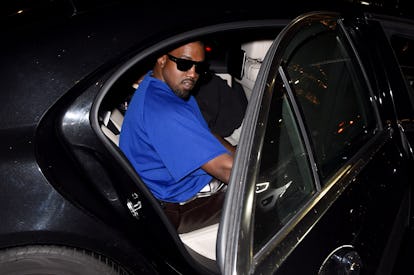 Getty Image
While ballots are still being counted and some swing states have yet to go either blue or purple, one thing is for sure: Kanye West did not win enough votes to become the President of the United States. Nor, despite some initial worries, will he prove to have had much of an impact at all.
The musician's campaign to run for president began this summer, and many questioned if it was possible for him to finally, after years of hinting that he would one day run for president, throw himself in the ring just months before the election on November 3. Not only did people question if he could actually run, they also worried that he would gain just enough votes to throw the election in favor of the Republican candidate.
After tweeting with glee on election day that he was going to vote for the first time in his life for the President (and he truly did only vote for the President on the ballot—none of the other slots, like those for state and county offices in Wyoming, received a vote from West), West shared photos of himself in the voting booth, and proudly sported his "I Voted" sticker. West was actually listed as a candidate in California, but as a Vice President option to Presidential contender Roque De La Fuente. He wrote himself in on the Wyoming ballot, and requested that his supporters do the same in states where he was not listed as a candidate for President.
In any case, the rapper eventually conceded a loss. As of Wednesday morning, West received just over 60,000 votes in the nation, and failed to win over 0.5% of the votes in any state. For perspective, the overall voter turnout in 2020 is estimated to be around 150 million.
The joke's on you, however, if you thought this loss was the end of West trying to run for president. It would appear that he has already begun campaigning for the next presidential election that will take place four years from now, when, presumably, he will still be collaborating with the Gap. West was all smiles in a tweet he shared that depicts a photo of the rapper in side profile, posing in front of the electoral college map of the Untied States, as things quickly swung from "Kanye 2020" to "Kanye 2024."
2020 may have seen the first time West ran for president, as well as the first time he voted for president, but it seems that it will not be his last.