Kanye West's Calabasas Casualwear For Adidas Sold Out In 5 Minutes
On Tuesday afternoon, Kanye West dropped his much-awaited Calabasas collection with Adidas. Here are all the details.
---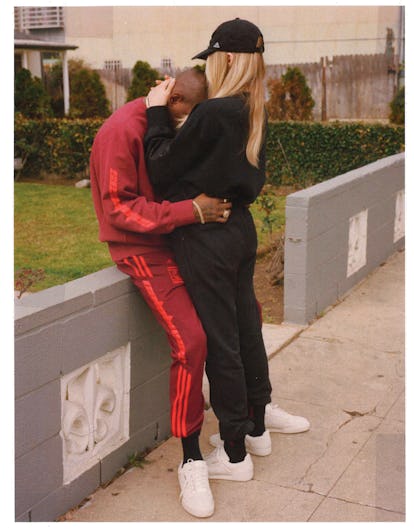 Kanye West has always been on his own team, so it was only fitting for him to design an Adidas uniform for his home turf of Calabasas, where he currently resides with the rest of the Kardashian clan.
He and wife Kim Kardashian, as well as key players like Kendall, Kylie, and Luka Sabbat, have all been sporting the Calabasas collaboration since September of last year, and last month at New York Fashion week, West showed even more "Calabasas casualwear" looks. But finally, on Tuesday afternoon looks from the collection were made available to the public on YeezySupply.com.
Clearly, despite West's recent highs and lows, everyone still wants to be on his team, too. And most of the collection sold out within five minutes of Kim Kardashian tweeting that it had finally dropped, after some delay. There might still be a stray tube sock left, but unless you're a member of the All-Star team or a real eBay baller, the odds are not in your favor.
In addition to retro-inspired Adidas Powerphase sneakers, which bear a resemblance to the Reebok Classics that actually dropped around the same time in the '80s, the Calabasas collection also includes a black bike hat, tube socks, and a red Calabasas pin. It's the perfect uniform for anyone trying to hop on the current '80s trend, or for those who spend most of their time going from their houses to their cars and back again—as most Calabasas residents seem to do.
But what's the big deal about this tiny neighborhood hidden in the hills of California? One thing's for certain: Its residents never expected, (or probably wanted), its name to be found next to the three iconic Adidas stripes. Let alone lusted after by Kanye West fans around the world.
Until recently, Calabasas has existed as an unbothered gated community where celebrities like Drake, Justin Bieber, and Britney Spears went to hide from fans and paparazzi. In fact, on Drake's "2 On/Thotful," (2014) he raps: "Crib in Calabasas man I call that s— the safe house / Thirty minutes from L.A., man the s— is way out."
But as one current resident and Calabasas High School senior told W magazine last month, Calabasas is part of the current cultural zeitgeist, and it stings a little now when friends beyond the walls of her gated community refer to her as being, "So Calabasas."
Lucky for her though, now everyone wants to live the Calabasas dream.
Related: Living the Calabasas Dream: What Non-Kardashians Actually Wear While Walking Their Tiny Dogs
Living the Calabasas Dream: What Non-Kardashians Actually Wear While Walking Their Tiny Dogs
Photo by Nolwen Cilfuentes
Photo by Nolwen Cilfuentes
Photo by Nolwen Cilfuentes

Photo by Nolwen Cilfuentes
Photo by Nolwen Cilfuentes

Photo by Nolwen Cilfuentes
Photo by Nolwen Cilfuentes

Photo by Nolwen Cilfuentes
Photo by Nolwen Cilfuentes

Photo by Nolwen Cilfuentes
Photo by Nolwen Cilfuentes
Photo by Nolwen Cilfuentes
Photo by Nolwen Cilfuentes
Photo by Nolwen Cilfuentes
Photo by Nolwen Cilfuentes
Watch W's Trending Videos Here: