A Close Read of 17-Year-Old Kanye West's Impressive Art
Turns out Kanye was specifically an art school dropout.
---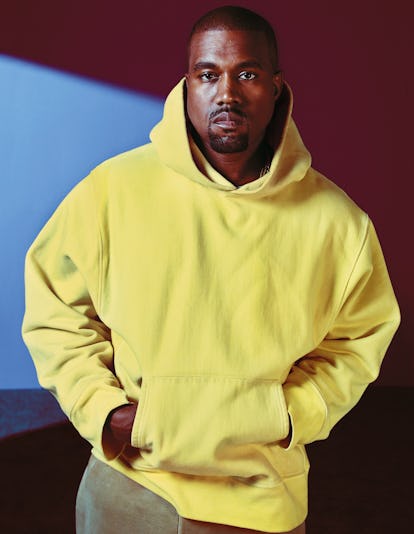 Mario Sorrenti
It's relatively common knowledge among Yeezy fans that Kanye West and Virgil Abloh were once interns at Fendi's office in Rome. But it wasn't until PBS aired the latest episode of Antiques Roadshow on Tuesday that many of his devotees learned a new bit of Kanye trivia: Once upon a time, back in his teens, West was an accomplished fine artist. He even received a scholarship to Chicago's American Academy of Art.
The revelation comes courtesy of the husband of one of West's cousins, who inherited "a great number" of works from West's early oeuvre from the estate of his late mother Donda. Alas, Laura Woolley, a Sotheby's collectibles alum, chose to highlight only five of them on the show: two graphite drawings, two scratchboard works, and a painting in what she guessed was gouache.
"I think these pieces demonstrate an extraordinary facility as an artist," Woolley said, describing them as "really exceptionally well done." All are circa 1995, when West was 17. At that point, he'd been studying art for 13 years, having started taking classes at Chicago's Hyde Part Art Academy when he was four. According to an artist bio, also circa '95, West also studied at the Art Institute of Chicago, Chicago State University, Polaris School for Individual Education, and Nanjing University. (He enrolled in the latter while living in China, where his mother was teaching at an exchange program.)
There's no shortage of celebrities who've attempted to moonlight as fine artists, to very much varying degrees of success. (Among them: Jim Carrey, Anthony Hopkins, Val Kilmer, Lucy Liu, and even Paris Hilton.) Despite Woolley's expert opinion, it's only natural to proceed with some skepticism. Decide for yourself with a closer look at each of the works, in order of their lowest to highest price estimates —all of which are quite the markup from his '90s deals of three for $30 two black-and-white prints and two for $25 color prints.. (Keep in mind that these are screenshots from a YouTube video, of course.)
Estimate: $2,000–3,000.
West started on this small graphite drawing while studying at Polaris. It's unfinished—and untitled, so we don't know the specific subject—and you can see faint outlines of West's plans for the shoulders and hair. It's hard to judge this one, since it's unclear where West was going with it, but it's definitely technically impressive.
Estimate: $3,000-5,000.
This gouache painting also features a face, though West was less precise in the gradient. Whether he was less skilled at painting than sketching or angling to keep things more abstract will have to remain a mystery for now.
Estimate: $5,000-7,000.
Here, we see West turn to another technique. He made this double piece using scratch board, which means first laying down the color pigment, then covering it with black paint and scratching it off to reveal the image underneath. Here's a detail, albeit low-res one:
Both appear to be landscape paintings, perhaps of a forest in the fall. The value here lies in the backstory, which unfortunately remains unknown. He could have been tucked away indoors, but it's much more to fun imagine him schlepping an easel into a woody area of Oak Park, in the suburbs of Chicago.
Estimate: $6,000-8,000.
What have we here? Well, at the very least, you can't say that Kanye the teen lacked in imagination. Another of West's portraits, this one features a Cubist-esque scramble of eyes above an exaggerated nose and lips. The one ear in view is even more exaggerated, with a sharp point and elfin slant. It's the priciest and largest of the lot featured on-air, as well as arguably the best showcase of West's technical craftsmanship. And it's a hint that West created more conceptual work, too; chains criss-cross in the foreground, mirroring the chains shackled to the person's neck. There's at least one pair of horns, and what looks like another emerging from one of the eyes. And then there's a strange object that looks like… a bong?
The video doesn't zoom in close enough to the bottom of the drawing, so those are about all the hints we get in this context. But the possibility does seem to exist that decades before his wife, Kim Kardashian, West was also critiquing mass incarceration and calling for criminal justice reform. (With on important distinction: without the help of Trump.)
Related: Kanye West, Uncensored and Unfiltered, on the Fashion Industry: "I Wouldn't Say Anyone is On My Side"