Olivier Rousteing Can't Get Enough of Kanye West
Plus, Erykah Badu dispenses some Baduisms, and Rihanna is one busy businesswoman.
---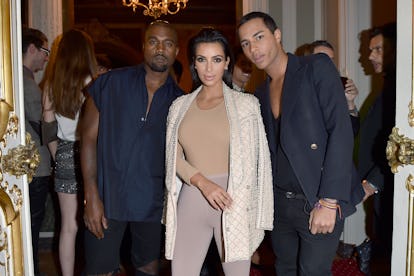 Jacopo Raule/Getty Images
Badu, Erykah While most of Twitter was focused on the political theater going down in Philadelphia, Erykah Badu was dispensing Baduisms — giving out palm readings — to her followers. Select gems: "I'm seeing that u will catch the first gay Pokemon," and "Recalculating route."
Convention, Democratic National Speaking of the DNC — it got underway Monday night with rousing speeches by Michelle Obama Elizabeth Warren, and Bernie Sanders — but the line of the night may have come from none other than Sarah Silverman, who said of 'Bernie or Bust' supporters, "You're being ridiculous."
Festival, Global Citizen Sure, it's a very different sort of festival than Panorama or Tomorrowland, but the Global Citizen Festival, an annual event aimed at raising awareness about and raising funds to remedy poverty in underserved parts of the world, regularly boasts the starpower of a more explicitly music-oriented festival. This year, Rihanna and Kendrick Lamar round out a lineup that also includes Selena Gomez, Major Lazer, and Ellie Goulding.
Jenner, Kylie Perhaps she realized she might need to widen her product range beyond her infamous lip kits before expanding to a brick-and-mortar storefront. Whatever the reasoning, Jenner is releasing an eyeshadow palette — which she has christened "KyShadow."
Obama, Michelle Speaking of the DNC, the First Lady delivered a rousing (tear-jerking) speech to the convention, while wearing a jewel-toned royal blue Siriano gown.
Rihanna Just after she was announced as the new Marion Crane in Bates Motel, Rihanna took her show to Paris to open a pop-up shop filled with her custom Manolos and Dior sunglasses, inside of Colette. Oh, and she's reissuing her famous Puma slides, this time in a soft grey. Busy lady.
Sofie, Frederikke It's only July, but model Sofie is already having a great fall — she appears in both the Harley Weir-shot Missoni campaign and the Theo Wenner-shot Chloé campaign.
Tourist The producer alter-ego of William Phillips, who co-wrote Sam Smith's "Stay With Me" — but now, Tourist is stepping out from inside the production booth.
West, Kanye The Fall 2016 campaigns just keep coming — Olivier Rousteing's Balmain has cast noted #BalmainArmy loyalist Kanye West alongside Joan Smalls in its latest imagery.
Watch W's most popular videos here: