Kanye West and John Legend Both Dressed Up as the Easter Bunny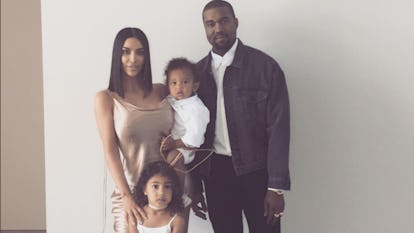 kimkardashian/Instagram
As per Kardashian-Jenner tradition, the reality TV family celebrated Easter with an outdoor party surrounded by their closest friends — and they pulled out all the stops, including having fathers Kanye West and John Legend dress up as matching Easter bunnies to entertain the kiddos. Of course the famous families could have hired a service to send over some professional Easter bunnies, but why not take the opportunity to dress up?
Both Kim Kardashian and Chrissy Teigen shared a few Snapchats, Instagrams, and tweets documenting the day, giggling as their husbands hammed it up as Easter bunnies. Kim posted an adorable video of some of the kids running into the arms of the bunnies, where you can hear her call out, "The Easter bunnies are here!" She also shared a selfie of herself and Kanye in his bunny costume, and a gorgeous photo of the Teigen-Legend family featuring John as a bunny.
Both dads eventually took the costumes off to commemorate Easter with some more classic photos.
Kourtney Kardashian also made an appearance at the party, posing with the other mamas and a few honored guests: sheep and a baby pig!
And because John and Chrissy's daughter Luna celebrated her first birthday last week, Kardashian matriarch Kris Jenner came through with not one but two hot rods for the little cutie. "I need a bigger garage. GIFTING QUEEN DOES IT AGAIN @krisjenner you are BONKERS we love you ???," Chrissy tweeted, alongside a photo of two toddler-sized pink cars.
Related: 3-Year-Old North West Is Already a Member of the Style Elite
Kanye West Just Wants to Bring Joy to the World Like Will Ferrell in 'Elf':