Kanye West Just Deleted Every Tweet He Ever Posted About Donald Trump
A brief history of the short-lived love affair between Kanye and Trump.
---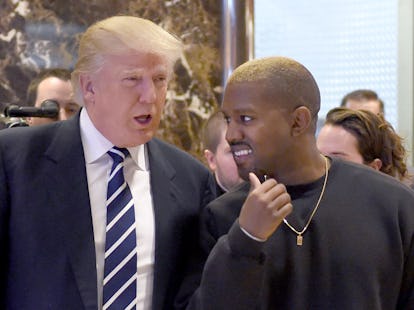 TIMOTHY A. CLARY/AFP/Getty Images
It seems Kanye West is no longer "Bound 2" President Donald Trump. The rapper, who in recent months has come out as a supporter of the controversial president, has apparently deleted all mentions of Trump from his Twitter account. Prolific tweeter that Kanye is, this must mean something.
TMZ reports that West's change of heart stems from his disappointment in Trump's performance during his first weeks in office. Specifically, the site names Trump's travel ban as an action that West disapproved of. Still, it's not totally clear what prompted West's tweet deleting spree.
West first aligned himself with the Trump camp days after the presidential election, when during a concert he revealed that he did not cast a ballot in the historic race, but had he voted, it would have been for Trump. It should also be noted that during the concert, as well as other shows he performed around this time, West was known to rant at length about everything from politics to Jay Z and Beyonce. Just a few days after he came out in support of Trump, he was reportedly hospitalized for exhaustion and sleep deprivation for about a week.
And of course, who could forget that fateful meeting between the newly elected President and the newly blond West at Trump Tower only days after the artist left the hospital? Much of what we know about their summit actually came from West's own Twitter account.
"I wanted to meet with Trump today to discuss multicultural issues," West said in several tweets that have since been deleted. "These issues included bullying, supporting teachers, modernizing curriculums, and violence in Chicago. I feel it is important to have a direct line of communication with our future President if we truly want change."
Or maybe West is just cutting the to the Oval Office. His cryptic "#2024" tweet posted after he and Trump's in-person meeting was also part of the social media purge. It seems Kanye 2020 could be officially back on.
Watch Kanye West Explain His Love fo the Movie Elf: