Kanye West and Kim Kardashian Cozy Up to Uganda President
No surprise here: He loves Trump, too.
---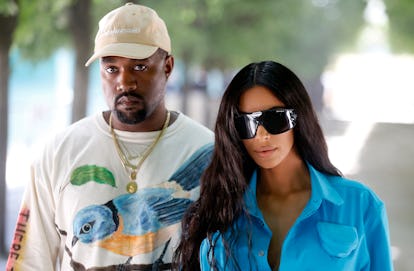 Chesnot/Getty Images
It seems like Kanye West has extended his quest to meet with world leaders following his bizarre Oval Office sit-down with President Trump last week.
During his trip through Africa, the rapper, along with his wife, Kim Kardashian, met with the president of Uganda, Yoweri Kaguta Museveni, and his daughter Diana Museveni Kamuntu in Entebbe, on Monday. Earlier this year, President Museveni openly spoke about his love for Donald Trump after the president had allegedly referred to African nations and Haiti as "shithole countries." "America has got one of the best presidents ever. Mr. Trump. I love Trump," Museveni said, according to the BBC. "I love Trump because he tells Africans frankly. The Africans need to solve their problems, the Africans are weak." Also relevant: Museveni is known for being anti-LGBT rights and throwing his political opponents in jail in the past.
Today, however, Museveni announced on Twitter that he, West, and Kardashian had "fruitful discussions" on promoting arts and tourism in the country, also revealing that the rapper gifted him with a white pair of Yeezy sneakers.
"I welcome American entertainment stars Kanye West and @KimKardashian to Uganda," he wrote on Twitter with a series of photos of their meeting. "I held fruitful discussions with the duo on how to promote Uganda's tourism and the arts. I thank Kanye for the gift of white sneakers. Enjoy your time in Uganda. It is the true Pearl of Africa."
West told TMZ last week that he'd be heading to Africa in order to wrap up his delayed Yeezus follow-up album, Yandhi, which is set to be released on Black Friday, November 23, and to shoot music videos. "Ye is fully back in mode. We're going to Africa in two weeks to record. I felt this energy when I was in Chicago. I felt the roots. We have to go to what is known as Africa."
It's unclear whether the record will actually come out on Black Friday because it's from West, so who really knows. But for now we wouldn't be surprised if he continues to focus on making the political rounds to Trump-loving leaders. It's not going to get any easier for former Kanye West fans anytime soon.