Don't Cancel On Kanye West, Especially Not on His Birthday Party
When the Gov Ball rained on his parade, the rapper planned his own.
---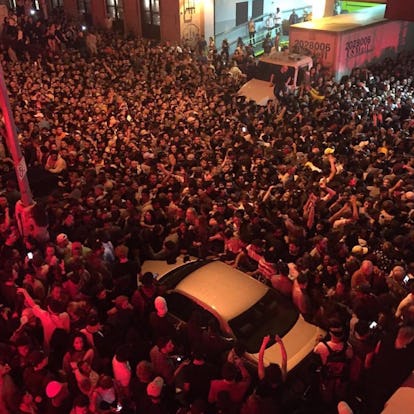 Due to "extreme weather" conditions, the final day of the 2016 Governors Ball Music Festival was cancelled Sunday afternoon. But Kanye West, who was the headliner for the evening, refused to let anything rain on his parade, especially not on his 39th birthday party.
After a family dinner at Cipriani with wife Kim Kardashian and daughter North, West headed out to the Hot 97 Summer Jam in the Meadowlands, where he did a "surprise" performance with Big Sean, Pusha T, A$AP Rocky, A$AP Ferg, Young Thug, Future, Travis Scott, and DJ Khaled.
Earlier in the evening, West's collaborator Virgil Abloh posted an Instagram announcing that there would be a late-night set, around 2:00 A.M., and somewhere in New York. Then, from backstage at Summer Jam, Kardashian posted a Snapchat of West on the phone requesting that the city shut down the block around the downtown venue Webster Hall, where Vic Mensa announced he would be performing in lieu of Governors Ball, so West could put on his own impromptu show.
"Call the Mayor of New York," read the caption.
Abloh's Instagram set had the Kanye teen squads in motion (8,836 likes and counting). The deed was done; no matter if the "Mayor of New York" picked up, they were coming. (The official answer? A hard "No.") Thousands of fans flocked to Webster Hall in the middle of the night, where KimYe later arrived in a car. West stood up through the sun roof and waved to his followers like the Pope before the police shut the whole thing down. In the end, Pablo got his cake, and a parade too.
Governors Ball Style Continued, But Was Cut Short