Kanye West Would Apparently Love to Design a Minimalist Drugstore Line
Kim Kardashian revealed Kanye West's "dream project," and of course it involves minimalist design.
---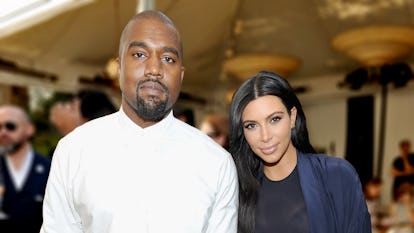 Getty Images
As extravagant as Kanye West may seem, his visual taste has often involved stripping down to bare the essentials. In Elle magazine's April cover story on Kim Kardashian, she revealed details about her husband's obsession with minimalist aesthetics—and they extend even further than furniture design or clothes.
The profile notes that the couple's entire home is without labels—everything from water bottles to clothing contain no visible logos or branding—and the partial reason for this sleek "visual serenity" is to keep the house as trademark and ad-free as possible for filming episodes of Keeping Up With The Kardashians. Even Kardashian's phone is part of the process—she deletes everything at the end of the day to start each morning with a clean slate to eliminate the digital "noise" she is surrounded by all day long.
It is not surprising that the Kardashian-West household is of the minimalist aesthetic. Designer Axel Vervoordt, known for his sleek vision, is credited with decorating the Los Angeles mansion the family inhabits, and nearly every season of Yeezy so far has reflected West's taste for the monochrome.
But one very important tidbit of information Kardashian mentions about this lack of labels in the home is West's "dream project" that would take this aesthetic one step further. She tells the interviewer that his ideal task "would be to make a Yeezy product line—like deodorant, every product you could imagine. He would redo them all; he hates how they look."
Yeezy-branded deodorant doesn't sound like such a bad idea—most brands of household items, from toothpastes to multisurface countertop cleaners, are already overdue for a label revamp anyway. The more you think about it, the more a Kanye West drugstore collaboration sounds like it really could be a hypebeast's dream come true. Maybe there's hope for Yeezy Season 8?
Related: Kim Kardashian Clears Up Yeezy Season 7 Rumors and Says It Will Be 'Online Soon'