Kim Kardashian Clears Up Yeezy Season 7 Rumors and Says It Will Be 'Online Soon'
"YEEZY HAS ITS OWN UNIVERSE."
---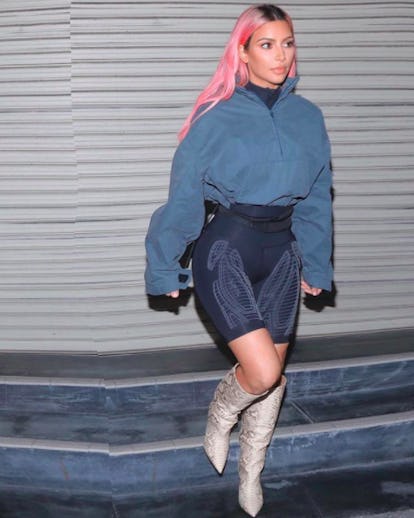 instagram.com/kimkardashian
These days, keeping up with Kim Kardashian's Twitter account is arguably more entertaining than her TV show. While much of her feed has more recently consisted of troll baiting nude selfies, one-liners directed towards her haters, and rumor squashing, her latest Twitter spree sounds like it could have come from the hands of her husband, Kanye West. With all-caps — and, mostly, without — Kardashian cleared the air and offered a much-needed update on Yeezy season 7.
Her clarification was triggered by a since-deleted tweet from @theyeezymafia which quickly went viral. It read, "Stockists were invited to a showroom that was empty, it was an unexpected meeting explaining that there won't be any apparel or accessories for SEASON 7 as Kanye West couldn't do what he wanted to achieve with this collection." Within hours, Kardashian responded by saying, "How can a verified account represent Yeezy with false information. You do NOT work for Yeezy and NOT affiliated. How are you gonna believe an account that posts fake color ways ???"
She then defended her rapper turned designer husband — and his unorthodox approach to approaching a collection — and let fans know that it won't be long until they can purchase Yeezy season 7. "Season 6 was genius," she tweeted. "All of my Japan looks are season 7 & will be online soon. Yeezy does not play by fashion rules. The show room was strictly shoes & always intended for that."
But her most passionate defense of Kanye came next when she tweeted with his signature all-caps, writing, "YEEZY HAS ITS OWN UNIVERSE #SEASON7."
Few truer words have ever been spoken. Over the past three years, West has cemented his place in the fashion industry as an iconoclast. He's turned collection presentations into global events, such as he did with season 3, which took place inside Madison Square Garden and doubled as a listening party for hist most recent album, The Life of Pablo. He's spoken out against the fashion industry's elitism and systematic racism while trying to carve out his own island within it. He's even, most recently, used his outsider celebrity to his advantage in one of the year's most unexpected fashion campaigns, starring Paris Hilton in Kardashian drag, shot paparazzi-style, which — coincidentally or not — was later the concept for Balenciaga's spring 2018 campaign.
The universe of Yeezy season 7 is already set into motion as Kardashian has been modeling some of West's new designs in recent days. Now, it won't be long until it's fully revealed.