Kim Kardashian Posts Nearly Nude In Sparkly Underwear, In Her Most Extra Week on Social Media Yet
From her Lamar Odom brothel burn to her sparkly nude selfie, an in-depth examination of Kim K's very loud week.
---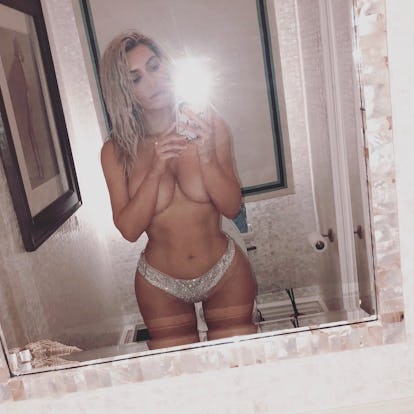 twitter.com/kimkardashian
It's in no small part thanks to her social media savvy that Kim Kardashian has risen so highly in the celebrity stratosphere, along with her sisters. But this past week, the reality TV star turned media mogul has been very extra on Twitter, serving up one-liners as well as thirst trap photos. Most recently, the mother of three, who just welcomed her second daughter Chicago West, posted a nearly nude selfie from a bathroom. The photo, which showed off Kardashian's platinum waves and penchant for sparkly things (including Tom Ford underwear), didn't come with a caption outside of a flashing camera emoji, but what is there to say, really. While it follows another photo Kardashian posted last week of herself on top of a Rolls Royce wearing a sports bra and underwear with the caption "good night," it's actually Kardashian's non-photo tweets that have been the most eyebrow-raising over the past week.
Last week, on the same day, Kardashian put to rest rumors that she had named her youngest child after the brand Louis Vuitton and managed to deliver a burn to her ex-brother-in-law Lamar Odom. Kardashian responded to a tweet from former senior executive at NBCUniversal Mike Sington that said "Burn!? Lamar Odom on Khloe Kardashian: I knew my marriage to Khloe was over "when she was on her second or third NBA player." Kardashian shared his tweet on her own page, replying, "Or second or third brothel."
Three days later, Kardashian reminded the world that she has a biting sense of humor once again when she replied to a fan wondering, "Is it me, or is @KimKardashian Sooo Self-absorbed.. even when she's saying Nothing.. ? lol.. & I Like the Kardashians." "No it's not you, I totally am!," she tweeted.
She later replied to another fan defending her, who noted "Not true kimmy you took a picture with me when you were pregnant with north and had to pee. You still stopped, talked to me and took a picture. That's not self absorbed," with the emoji "??."
In between crafting comebacks, Kardashian also took a moment to reflect on her accomplishments, including her recent much-talked-about campaign with her sisters for Calvin Klein. "Time Square is LIT!!! ??? #OurFamily #MyCalvins @CalvinKlein," she tweeted, along with a photo of the billboards.
Kardashian also took to task The Daily Mail for suggesting she asked her surrogate to carry another baby for her, tweeting back at the publication, "fake news."
Someone give her a reality show. Oh wait.