No, Kim Kardashian and Kanye West Didn't Name Their Baby After Louis Vuitton
They're just big Kim Jones fans.
---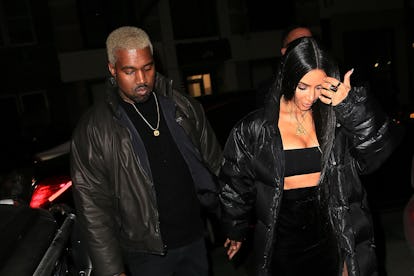 Pierre Suu/GC Images
As a Kardashian-Jenner, Kim Kardashian West is a master of the cryptic tease. It just comes with being a part of reality television's first family, who have shown throughout the past decade that oversharing is only beneficial when you're being paid for it. Just this past year alone the Kardashian-Jenners have proved their commitment to controlling their own narrative as the pregnancies of Kim and Kanye West's surrogate, Khloe Kardashian, and possibly Kylie Jenner have elaborately played out in sync like an orchestra. So when Kimye announced they had welcomed their third child, a baby girl, this past Monday, details were presumably sparse. This left many tweeting out their own name suggestions into the void, and more grasping at rumors. One of these rumors is that Kim and Kanye took inspiration from Louis Vuitton when naming their youngest — however, there is no truth behind it as TMZ is now reporting.
Despite Kim Kardashian's recent tribute to the luxury fashion house on Instagram, where she posted a photo of the classic LV monogram print, and on Snapchat where she showed off monogram-painted garbage cans that would only belong to Kanye, the couple have not named their child after Louis Vuitton. According to TMZ, both posts were just meant to show love to menswear design head Kim Jones, who has collaborated with Kanye before. Indeed, today was Jones' last show for Vuitton, a milestone he celebrated by recruiting Kate Moss and Naomi Campbell to walk his runway. So, Kardashian's Instagram tribute was a nice added treat.
What we do know about the Kardashian-West's third child is that she apparently loves to sleep. A source close to the Kardashians recently opened up to E! News about how everyone has been adjusting, saying, "The baby basically sleeps around the clock so it hasn't gotten too crazy yet. Kim has had time to do her workouts and spend a lot of time with North and Saint. She's enjoying the down time at home and this little break to adjust to life with three kids."
North and Saint have also reportedly been adjusting well to their new baby sister. "North is like a little mommy who wants to help and take care of her," the source says. "Saint is curious, but not as interested. It's definitely a big adjustment for both of them, but Kim is trying to keep their routines the same and giving them each a lot of one on one time so everything remains consistent. She's doing the same things she's always done like reading them stories and putting them to bed at night. She doesn't want them to feel their lives have changed too much."
Related: Kylie Jenner Sent Kim Kardashian And Kanye West a Baby Gift, But Did Beyoncé and Jay-Z?