Kim Kardashian and Kanye West Reportedly Welcome Third Child Via Surrogate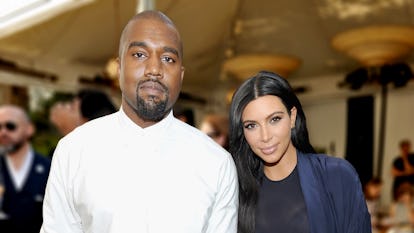 Donato Sardella/Getty Images
Make room on the Keeping Up With the Kardashians set for one more: Kim Kardashian and Kanye West's third child has finally arrived. The new baby, a girl, was delivered via surrogate on Monday, TMZ reports.
The couple's new daughter is reportedly healthy, weighing in at 7 pounds and 6 ounces. It's unclear where the birth occurred, though TMZ notes that the couple's surrogate was previously said to be living in San Diego.
Kardashian and West, who are already parents to daughter North, 4, and son Saint, 2, announced that they were expecting another child earlier this year, confirming the rumors that had been circulating for months. In a teaser for the new season of KUWTK that aired at the end of September, Kardashian was seen telling younger sister Khloé via FaceTime that "we're having a baby!"
And during an appearance on The Ellen DeGeneres Show in November, Kardashian accidentally let it slip that she and West were expecting another daughter. While telling a story about her cherry blossom–filled baby shower, the KKW Beauty mogul inadvertently revealed that North had started referring to the new addition as "Baby Sister," and didn't realize her slip-up until DeGeneres pointed it out. Later in the interview, Kardashian talked about how her kids were feeling about gaining a new younger sibling. "North is finally—she's really excited about that," she said, noting that it had been "a little trickier" to get the toddler excited about having a younger brother.
Before Baby #3 arrived, Kardashian also opened up about what it was like to use a surrogate after carrying her first two children herself. (Her doctor recommended surrogacy after she experienced placenta accreta and preeclampsia with both North and Saint.) "Anyone that says or thinks [surrogacy] is just the easy way out is just completely wrong. I think it is so much harder to go through it this way, because you are not really in control," she told Entertainment Tonight in November. "And, you know, obviously you pick someone that you completely trust and that you have a good bond and relationship with, but it is still — knowing that I was able to carry my first two babies and not, you know, my baby now, it's hard for me. So, it's definitely a harder experience than I anticipated, just in the control area."
Related: Kylie Jenner Is Keeping Her Pregnancy a Secret Because She's Lived Her Life Publicly