Kylie Jenner Sent Kim Kardashian And Kanye West a Baby Gift, But Did Beyoncé and Jay-Z?
Now that there's a third baby in the mix, everyone's keeping close tabs on any and all West family updates.
---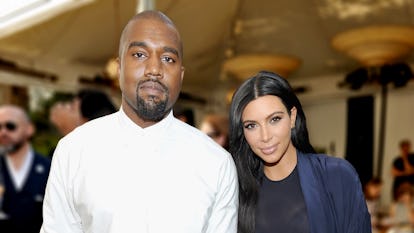 Donato Sardella/Getty Images
After Kim Kardashian and Kanye West welcomed their third child together via surrogate on January 15th, everyone on the outside has kept close tabs on the family in an attempt to glean any sort of insight into the household now that their children North and Saint are both big siblings to the baby, and everyone on the inside has showered the parents with gifts. Kardashian's youngest sister, Kylie Jenner (whose inconclusive pregnancy rumors still swirl about on a daily basis) celebrated baby #3 by sending a beautiful heart-shaped bouquet of white and pink roses, which was of course, documented on Snapchat and Instagram Stories.
Jenner isn't the only insider to send a gift to the West family in honor of the new baby, however. Both Beyoncé and Jay-Z have reportedly sent a joint gift—a $21,000 Lorraine Schwartz diamond bracelet engraved with the number three. Many fans of the two power couples know that there has been tension between West and Jay-Z for months if not years, which was an issue the 4:44 rapper addressed in his recent New York Times profile. "Hopefully when we're 89 we look at this six months or whatever time and we laugh," is what Jay-Z revealed in that profile, but it looks like they won't have to wait until they're 89 to bury the hatchet between them.
Now that there's a third baby in the mix, both parents are also making sure to give the eldest two children some extra attention, so that there won't be a repeat situation of what happened when Saint was introduced. A refresher: when Saint was born, North was used to being an only child for about two years, and Kardashian announced during her co-hosting gig on Live with Kelly & Ryan that her daughter has been prone to jealousy ever since her baby brother's arrival into the family, keeping boys out of her room and bossing baby Saint around any chance she could get. When her mom gave her a puppy named Sushi, it was hoped that North would be able to use the opportunity to learn responsibility and prepare for a third sibling.
As far as a name for Baby West goes, one has not been revealed, but fans are speculating that Kardashian's recent up-close Instagram post of a Louis Vuitton bag could be a hint. Just last week, Kardashian also snapped a picture of the family's garbage cans, which also appeared to be decorated with the iconic Louis Vuitton logo, but considering the names bestowed upon their first two children, a name like "Louis" or "Louise" just might not match with the rest.
Related: Millie Bobby Brown Wants Kourtney Kardashian, Professional Salad Shaker, to Shake Her Salad