Beyoncé Was Working on a Joint Album with Jay-Z When She Decided to Step Away and Make Lemonade
Jay-Z says the couple was "very, very uncomfortable" after releasing albums about each other.
---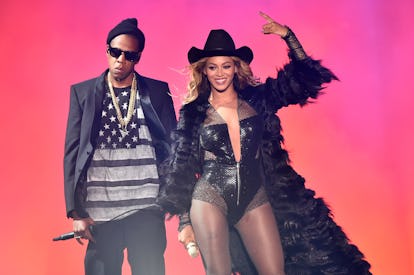 Larry Busacca/PW/WireImage/Getty Images
Just when things finally seemed to have cooled down between Beyoncé and Jay-Z, months after they both released albums addressing the latter's long-rumored infidelities, the executive editor of the New York Times, Dean Baquet, once again opened up the can of worms that is Jay-Z's relationship with his wife, whom he now seems to be getting along with just fine (perhaps in part because they now have the option of staying in their own private wings of their new mansion). In a new interview, which begins with discussions of O.J. Simpson and race, Baquet also asked Jay-Z to describe the scene when he and Beyoncé both told each other they were going to discuss their marital issues in their new albums—one that Jay-Z says actually never took place at all.
"It didn't happen in that way," Jay-Z said. "We were using our art almost like a therapy session. And we started making music together," he continued, confirming that the long rumored joint album between the pair of them actually was in the works.
"Then the music she was making at that time was further along," Jay-Z said of the songs that would become Lemonade, her Peabody Award-winning album that was just as artistic as it was confrontational, featuring a baseball-swinging Beyoncé who at one points asks flat out, "Are you cheating on me?"
Still, Jay-Z says he wasn't in the dark about what ended up coming. "Her album came out as opposed to the joint album that we were working on…And this is what it became. There was never a point where it was like, 'I'm making this album.' I was right there the entire time."
As for the way things did turn out, he admitted that the release of both Lemonade and 4:44, his album which was widely seen as his response to the former, caused pain for both of them and made them "very, very uncomfortable." Still, he said, "the best place is right in the middle of the pain. And that's where we were sitting. And it was uncomfortable. And we had a lot of conversations. You know. [I was] really proud of the music she made, and she was really proud of the art I released. And, you know, at the end of the day we really have a healthy respect for one another's craft. I think she's amazing."
Few people would disagree with that last sentence, but it does seem like Jay-Z at one point really did consider officially calling it off with Beyoncé rather than owning up to his actions. "You know, most people walk away, and like divorce rate is like 50 percent or something 'cause most people can't see themselves. The hardest thing is seeing pain on someone's face that you caused, and then have to deal with yourself. So, you know, most people don't want to do that. You don't want to look inside yourself. And so you walk away."
His marriage isn't the only "complicated relationship" Jay-Z discusses: He also admitted that he still has "tensions" with Kanye West, though progress seems to have been made on that front, as evidenced by Beyoncé and Kim Kardashian's recent reunion at Serena Williams's wedding. "There's gonna be complications in the relationship that we have to get through. And the only way to get through that is we sit down and have a dialogue and say, 'These are the things that I'm uncomfortable with. These are the things that are unacceptable to me. This is what I feel,'" Jay-Z said in what sounded like proof that he really has been going to a therapist, as he told Baquet he has. "I'm sure [West] feels that I've done things to him as well. You know what I'm saying? I'm not a perfect human being by no stretch."
Still, Jay-Z sounded optimistic about how things will turn out with West—"hopefully when we're 89 we look at this six months or whatever time and we laugh"—which means future collaborations between the pair aren't entirely off the table. As for whether Jay-Z and Beyoncé's album will ever see the light of day, that possibility definitely seems open—though also up to Beyoncé: "Um, we still have a lot of that music," Jay-Z hesitantly pointed out of their joint recordings.
Related: On 4:44, a Humbled Jay-Z Struggles to Make Amends with Beyoncé and the Other Women In His Life
Go Behind the Scenes on Set with Beyoncé: