On 4:44, a Humbled Jay-Z Struggles to Make Amends with Beyoncé and the Other Women In His Life
His mother, his wife, and his daughter are at the heart of '4:44', which falls in the long shadow of 'Lemonade.'
---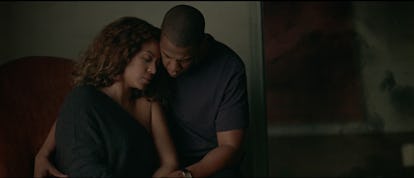 Jay-Z needs a story to tell. 4:44, his first album since the 2013 release of Magna Carta Holy Grail, is the first album in a decade where the rapper-mogul sounds at ease with himself. The subject matter of the album—namely, his own mistakes and transgressions—is hardly easy, but Jay-Z turns the pain over and examines it calmly. Comfort is often thought to be a poor pose for a rapper, because it can lead to lyrical laziness, but in this case his self-acceptance is a predecessor to honesty. Therapeutic self-reflection underlies the album, with Jay-Z publicly acknowledging he isn't the center of the world, or even his own family.
It's the women of Jay-Z's life who reside at the center of 4:44: his mother on "Smile," his daughter Blue Ivy on "Legacy," and Beyoncé, his wife, on "Family," where he admits to cheating, and on "4:44," where he annotates, line-by-line, his faults and the ways he's done her wrong. It's true that Jay-Z has dedicated songs to all of these women in the past, but before, his duets with Beyoncé felt like affirmations of partnership, and the tracks devoted to his mother served as strength for his own struggle. But on 4:44, he's riding shotgun on their stories; and, in fact, he might be the man obstructing their path.
Jay Z's first album, Reasonable Doubt, arrived when he was 25, an age where most rappers are entering the second half of their careers. That age gap may explain why Jay-Z often stood apart from many rappers—he understood, with what felt like wisdom beyond his years, his role in the game of music, business, and American society. His move to pop stardom, in 1998, came off a sample from Annie. His 2004 "retirement" album, The Black Album, came with the pomp and circumstance one would expect of a final release. Post-retirement, his American Gangster concept album had him going back to his Reasonable Doubt days, Watch the Throne was a pro-black capitalist message, and Magna Carta Holy Grail was the first iteration of a post-fatherhood Jay-Z. These gestures didn't all work, but they all show that Jay-Z has a head for narrative.
The long shadow of Beyoncé's last two albums, Beyoncé and Lemonade, has fallen over Jay-Z the last few years. She not only told the story of where her husband's life was at in these times, but amplified their marital conflict, particularly on Lemonade, into the greater struggle of American black women. Jay-Z tries to offer that much scope on "The Story of O.J.," where he opens a verse with: "O.J. like, 'I'm not black, I'm O.J.' …okay." That "okay" is said dismissively, shrugging off the notion that wealth—no matter how fabulously rich one is—can obfuscate one's race, which is something Jay-Z is in a unique position to understand and speak on. From there, he quickly moves beyond the broader societal critiques, because for Jay-Z the issues of blackness and money are, by now, old news. The tales of the women in his life are much richer.
"Mama had four kids, but she's a lesbian / Had to pretend so long that she's a thespian / Had to hide in the closet, so she medicate / Society shame and the pain was too much to take," he raps on "Smile." In this depiction of his mother's struggle, Jay-Z is trying to tell a younger generation to simply be themselves, and to embrace opportunities that his mother simply didn't have when he was growing up. Last year, the fact that an openly-out rapper Young M.A., also from Brooklyn, could score a Top 20 record with "Ooouuu," certainly wasn't lost on Jay-Z—a full 20 years after his debut album, the world was finally ready to support such an artist. That air of openness continues as Jay-Z traces his steps in his relationship with Beyoncé.
Jay-Z doesn't avoid his past mistakes here. "I apologize to all the woman whom I / Toyed with you emotions because I was emotionless / I apologize 'cause at your best you are love / And because I fall short of what I say I'm all about," he raps on "4:44." Disappointment is a rare tone to hear in a rapper's voice. Jay-Z doesn't see anything to brag or boast about in his past transgressions, and there is nothing to enjoy in the hurt and pain he brought to his wife, daughter, and entire family. Except he manages to say it all with his still irreproachable flow and lyrical wonder. In 2001, he used that skill on The Blueprint to tear down rivals, and in 2017 he turns it on himself.
Rappers often hold moments of reflection for an album's close, as if a single song absolves them of all the other crimes, boasts, and harsh rhymes. Jay-Z himself is a master of this tactic—see "Regrets" on Reasonable Doubt, "Song Cry" on The Blueprint, and even the much maligned "Bench Chair" from Kingdom Come. 4:44 doesn't let him off the hook. The album strives for its entire runtime to make amends for past mistakes. The narrative Jay-Z chose reflects poorly on his character, but it's the truth he and those closest to him deserve.
Related: [Jay-Z's](Jay-Z's 4:44 References Those Cheating Rumors) [References Those Cheating Rumors](Jay-Z's 4:44 References Those Cheating Rumors) References Those Cheating Rumors
See what's trending on W video: