Beyoncé and Jay Z Bought a New Home So Big They Can Each Have a Private Wing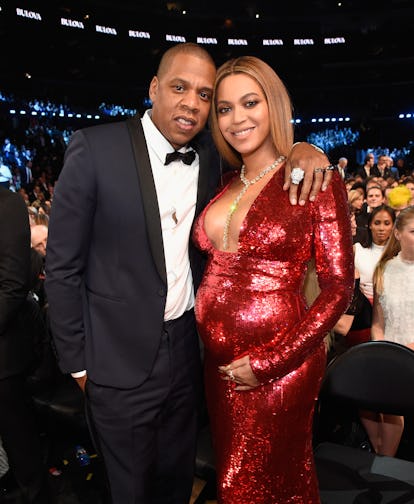 Kevin Mazur/Getty Images
What has four swimming pools, a tennis court, year-round perfect weather, an entertainment complex, spa and wellness facilities, and, presumably, in-house food service staff? A retirement community, a south Florida condo complex, California liberal arts colleges, a "really great town," and, apparently, Beyoncé and Jay Z's new Bel Air home.
Since their twins Sir and Rumi were born in June, the couple has reportedly been living in Malibu in a $400,000-per-month rental on 6.3 acres with a tennis court and rose garden—a complex fans of True Blood will recognize as the mansion of vampire queen Sophie-Anne, played by Evan Rachel Wood. That property was on the market for a cool $54.5 million, according to the Daily Mail, but when it came time to picking a more permanent residence, Beyoncé and Jay Z traded in their 6.3 acres for a smaller (two-acre), but better-outfitted estate. The sale hasn't been made public yet, according to the Los Angeles Times, but reports indicate the Knowles-Carters purchased the property for more than $90 million. Of course, for a couple worth a combined $1.16 billion, this is a drop in the bucket.
While it's smaller than their rental, Beyoncé and Jay Z's new digs are still quite spacious. In fact, if they so desired, they could probably go several days without ever interacting. The house also possesses "separate staff quarters," according to the Los Angeles Times, a 15-car garage for 15 different quick getaways, and a basketball court. (Maybe that team Beyoncé is eyeing can train there.) Its 30,000 square feet are spread across six different "structures"—so, you know, one for Beyoncé, one for Jay Z, one for each of the twins, one for Blue Ivy (their eldest needs her space), and there's still a "structure" to spare. A home studio for Jay Z, Beyoncé, and the burgeoning pop supergroup that is their brood, perhaps?
Andrew Garfield remembers a strange, magical trip to Disney Land for his birthday: