Beyoncé Might Buy (Part of) a Basketball Team
Beyoncé's next investment might be in her hometown.
---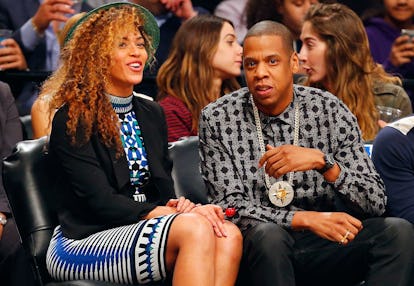 Jim McIsaac
In addition to her career has world conquering pop star, Beyoncé also has that athleisure line Ivy Park, her Parkwood management and entertainment brand, an impressive array of perfumes and a share in Tidal. Yet, she's still looking to widen her portfolio of business interests and may look to the world of professional sports next. According to a report from Bloomberg, she's interested in buying an interest in her hometown NBA team the Houston Rockets.
The reported details seem pretty speculative and sources say that Beyoncé is just "mulling over" the possibility at the moment, but the report does come as the team's current owner, Les Alexander, is looking to sell and cash in on the team's growing value. He bought the team in 1993 for a "mere" $85 million, and may very well end up selling it for over $2 billion.
Beyoncé's bank account certainly isn't hurting, but she doesn't quite have that kind of money to casually throw around. So, she'd likely have to team up with a group of other investors to purchase the team.
Certainly, though, any savvy business person would want the singer, a hometown hero, involved in their bid for the team. Beyoncé has been open about being a fan throwout her career. She gave a tip to the team in the lyrics to her single "Countdown," has sported Rockets gear on stage, in videos and on the streets, and she's been spotted front row at Rockets games before.
She also wouldn't be the only celebrity with a minority ownership in a sports team. Justin Timberlake has a stake in his hometown Memphis Grizzlies. The Miami Dolphins myriad of random celebrity minority investors include Gloria Estefan, Fergie, Venus and Serena Williams, Jimmy Buffet, and Marc Anthony (while Pitbull is reportedly interested in nabbing a stake in the Miami Marlins). Will and Jada Pinkett Smitt have a small stake in the Philadelphia 76ers.
Beyoncé's path to an ownership stake is complicated a bit by another celebrity who previously owned an NBA team. Ironically, it's the celebrity she's married to. Jay Z previously owned a very small stake in the Brooklyn Nets, but in 2015 the NBA adopted what the press quickly called "The Jay Z Rule," mandating that all investors had to own at least 1 percent of a team. To be clear, the rule wasn't adapted because of Jay Z but he was one of the most notable minuscule co-owners in the league. That means Beyoncé could have to pony up somewhere around $20 million (give or take a few millions depending on the ultimate actual sales price) to get access to the owners' box.
Related: Rihanna Maybe Heckled Kevin Durant During the NBA Finals
See What's Trending in W Video:
Beyoncé, Rihanna, Kendall Jenner and More Celebrities Wearing High Heels at Basketball Games
Beyonce wore Gianvito Rossi boots with a Jacquemus skirt while attending The 67th NBA All-Star Game: Team LeBron Vs. Team Stephen at Staples Center on February 18, 2018 in Los Angeles, California with her daughter Blue Ivy and mother Tina Knowles.

Allen Berezovsky
Victoria Beckham's nickname is Posh for a reason. While attending a game between the Los Angeles Lakers and the Dallas Mavericks with her husband David Beckham, and their children, Cruz and Romeo, the singer-turned-fashion designer put her platform heels on display.

Kevork Djansezian
Wearing a simple tee and jeans, Beyonce looked surprisingly understated while attending a New Jersey Nets v New York Knicks game at Madison Square Garden with Jay Z… until you look at her feet. Those, ladies and gentleman, are Christian Louboutins. And they are anything but casual footwear.

James Devaney/Getty Images
Kate Upton's bright pink pumps stood out at a New Jersey Nets vs the New York Knicks game at Madison Square Garden. Fortunately, her seatmate also got the memo about fancy footwear.

James Devaney/Getty Images
Alicia Keys proved that her heels were made for walking, while attending the Miami Heat vs New York Knicks game at Madison Square Garden with Swizz Beatz.

James Devaney/Getty Images
At a game between the New York Knicks and the Chicago Bulls at Madison Square Garden, singer Taylor Swift looked sleek in an all-black ensemble, paired with Christian Louboutin booties.

Jim McIsaac/Getty Images
While Kanye West looked casual in a white button-down, jeans, and boots, Kim Kardashian was all glammed up in strappy sandals and a little black dress to watch the Los Angeles Lakers take on the Denver Nuggets in Game Seven of the Western Conference Quarterfinals in the 2012 NBA Playoffs.

Harry How/Getty Images
While they're wearing very different looks–Kendall Jenner went full Yeezy monochromatic, while Cara Delevingne channeled a British guard–both supermodels got the memo about heels: when you're courtside, they're a must.

Noel Vasquez
Kendall Jenner wore a somewhat more understated ensemble, with entirely more outrageous shoes, while attending a basketball game between the Houston Rockets and The Los Angeles Clippers with her sister Khloe Kardashian.

Noel Vasquez
Back at it, Jenner wore a pair of nude booties to a game between the Dallas Mavericks and the Los Angeles Lakers. Her companion, Bella Hadid, chose a pair of black Christian Louboutin pumps.

Noel Vasquez
In a "Dior Addict" graphic tee paired with vintage Levi's jeans — both from What Goes Around Comes Around — and Yeezy-inspired clear boots, Kendall Jenner channeled Rihanna a basketball game between the Memphis Grizzlies and the Los Angeles Lakers.

Noel Vasquez
While Jay Z and Blue Ivy wore coordinating sneakers, Beyoncé Knowles stood out wearing a pair of strappy sandals and some sort of unexplainable poncho at the 66th NBA All-Star Game in New Orleans, Louisiana.

Theo Wargo
Rihanna, eternal queen of courtside style, looked displeased but chic at Game 1 of the 2017 NBA Finals between the Golden State Warriors and the Cleveland Cavaliers.

Ezra Shaw