A Guide to Celebrity Perfumes, from Rihanna's Reb'l Fleur to Jennifer Lopez's Glow
How many fragrances do the world's biggest stars have under their belt? And what do they actually smell like? Find out here.
---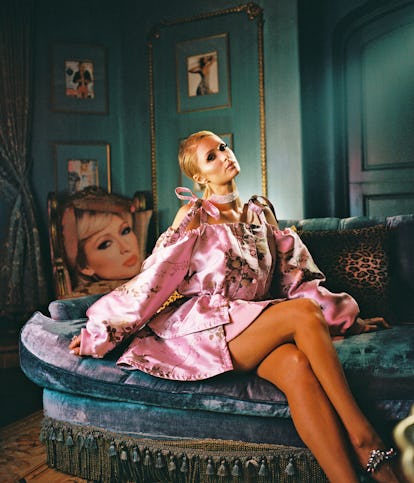 Mayan Toledano
It seems like very celebrity in the past 20 years has developed a fragrance of their own. Members of boyband One Direction, rapper Nicki Minaj and actress Jennifer Aniston are amongst the stars with at least one perfume. But that's amateur hour compared to the biggest stars in the world of celebrity perfumes: Jennifer Lopez, Britney Spears, and David and Victoria Beckham, who each count more than 20 fragrances to their names.
While there are some reports that celebrity fragrances are on the decline–they are still quite popular for obvious reasons. "They're alluring to consumers who are drawn to their image and want to emulate the upscale lifestyle they project," an industry insider told W. "Particularly for younger consumers, a fragrance provides an easy point of access to a way of life that is otherwise unattainable."
The fragrances are also typically designed for a mass audience, so they can end up smelling alike. "Typically celebrity fragrances contain notes that appeal to a wide audience and are likely to perform well commercially, like vanilla, fruits, musk and amber. They all tend to be easy and inexpensive to source and offer an appealing price point to their fan base." So who does it best? Read on for a guide to the most popular celebrity perfumes today:
Rihanna Number of Fragrances: 10
Rihanna's scents have been a smash hit since her first launch in 2011 with Reb'l Fleur. Now, she has ten scents in total: three are in her signature collection—RiRi, Kiss, and Crush—the latter of which has a creamy, musk base, common of her business-minded like olfactory friends. A 2014 report suggested Reb'l Fleur was projected to rake in a cool $80 million alone. Naturally it has all the characteristic notes of favorited celebrity fragrances that sell so well: vanilla, musk, and fruits and just a touchy of heady florals. Meanwhile, where's the Fenty Beauty collection? We have high hopes.
Beyoncé
Number of Fragrances: 14
Anytime Beyoncé does anything, the Beyhive follows in droves. Case in point: Beyoncé's 14 fragrances. The singer launched her first perfume in 2010, named Heat by Beyoncé, and did a whopping $21 million in sales. But perhaps what made the scent so appealing was its ad campaign, which was deemed to sexy for daytime television in the U.K., according to Forbes. Since then, Beyoncé's launched an array of scents riffing off of her original, with hedonistic suffixes added to Heat like Kissed and Seduction. Almost all of her formulations weave in vanilla or a creamy musk, along with a variety of fruits, florals, and natural oils.
Mariah Carey
Number of Fragrances: 14
Never one to miss an opportunity to shine, Mariah Carey took the fragrance world like a pro, with 14 scents currently under her belt. Her first fragrance, called M, launched in 2007, and is full of saccharin notes like marshmallow upon first spray, but dries down to a patchouli, spicy base over time. Many of her other perfumes have sweet notes or are named after such, including seven different lollipop-themed scents, of which the original three were named after, according to the New York Times. Rather, they were all named for Carey's favorite kind of Lollipop—the Ring Pop, of course. In May of this year, it was rumored the singer was launching her own beauty line, too.
Jessica Simpson
Number of Fragrances: 16
Although Jessica Simpson may have started her career as a pop star in the early aughts, in the past decade she's become better known as a business women. But she started small: Simpson first played around in the beauty biz in 2004 when she teamed up with teen- and tween-focused brand Dessert Beauty, with products like edible lip glosses and body sprays available. It wasn't until 2008 that Simpson launched her first formal fragrance, aptly named Fancy, which has since evolved into three additional iterations, all containing a creamy amber note throughout. In 2016, the fashion- and beauty-empress was reportedly worth an incredible $170 million. But that's chump change in comparison to her namesake fashion- and beauty collections, which rake in approximately a billion dollars a year in sales.
Sarah Jessica Parker
Number of Fragrances: 16
Perhaps its natural that the former Sex and the City star, known for her amazing curls and penchant for Manolos, would also have an eye (nose?) for fragrance. Sarah Jessica Parker's first foray into the olfactory world was in 2006, with her award-winning scent, appropriately called Lovely. (Parker received a FiFi—Fragrance Foundation award—for her Lovely ad campaign, but was also impressively a semifinalist for Women's Fragrance of the Year. In the decade plus since then, Parker's carefully curated a trio of signature scents, along with over a dozen flaners that have earned praise from critics, editors, and consumers alike. Although it has common notes like Amber and Musk, Lovely is far spicier in its initial spray and its dry down with a powder-like finish. In 2016, SJP Beauty released Stash, a woodsy, unisex fragrance that has become a fan favorite, too.
Elizabeth Taylor
Number of Fragrances: 17
Although Elizabeth Taylor is no longer alive, her spirit and legacy literally endure through her scent, as her iconic White Diamonds is still a best-seller. In 2011, the scent took in an incredible $54 million, which is rare for a celebrity fragrance that'd been around for 20 years. Since its inception, the sheer, floral scent that has sold more than $1 billion alone total—not too shabby especially when you consider Taylor's name is also attached to 16 more fragrances.
Britney Spears
Number of Fragrances: 22
Britney Spears continues to be a huge superstar in the celebrity fragrance world, even with an end-of-run nightly show in Vegas. For example, her beloved 2004 scent, Curious sold over 500 million bottles world wide, and did a staggering $100 million in sales within the first five weeks of it launching alone. Even over a decade later, it remains a top-seller across the board, having arguably curious staying power both in the market and as it dries down. It features a litany of commonly seen notes, such as white florals, fruits, and sandalwood, and several editors have admitted to keeping Curious in their curated fragrance stash. (Guilty as charged.)
Paris Hilton
Number of Fragrances: 24
The woman who "invented everything you're doing in 2017" — and also invented Kim Kardashian — is an arguable OG queen of celebrity scents, having racked up two dozen in the 13 years in the perfume biz. Paris Hilton's eponymous first fragrance (Would we have had it any other way in the early aughts?) was soft and feminine thanks to fruity top notes of apple and peach, with a dry down into white florals also commonly seen in celebrity scents, such as gardenia and jasmine. By 2014, Hilton raked in an impressive $2 billion in revenue on her internationally best-selling fragrance empire, and continues to release fragrances today. Her most recent launch, Rosé Rush, which dropped mid-July, also has musk and amber, but has the floral essences of neroli and rose petals for a ladylike scent. As Hilton said, Rosé Rush "is a scent to evoke confidence and ambition within all women—particularly in the areas of love and romance."
Jennifer Lopez
Number of Fragrances: 28
When anyone talks about how to get the "J. Lo glow," they're almost always referring the ageless beauty's impeccably radiant skin, which has the perfect balance of tempered shimmer and color, and maybe, a hint of a magic. But Glow was also the first of Jennifer Lopez's now 28-fragrance collection, and is perhaps one of the most well-known, debuting in 2002. Just two years later, Glow had earned $300 million in revenue and was beloved for its charm-bedecked bottle and its scent composition, as Lopez reportedly called Glow a "skin scent," with notes of neroli, pink grapefruit, rose, sandalwood, amber, musk, jasmine, iris and vanilla—all the hallmarks of a celeb scent that sells well. Glow, naturally, spawned a ton of flankers (despite not giving everyone Jennifer Lopez's flawless skin, sad face) including a few options for men, too, because really, who wouldn't want to channel the celeb fragrance OG herself?
David Beckham
Number of Fragrances: 30
Even though Victoria Beckham may be an upcoming beauty mogul and an already highly acclaimed fashion designer, it's her husband who makes a mint selling fragrances with the most bottles of all celebrities to his name. David Beckham has released an incredible 30 scents under his umbrella, which containing both men's and women's options as well as unisex fragrances, too. His first scent debuted in 2005—six years after then-dubbed Posh and Becks wed—and he's continued to roll out fragrances to this day. Many of his scents are available in both men's and women's iterations and share many of the same notes, like their 2010 Intimately His and Intimately Hers, both which dry down to vetiver and sandalwood bases, the latter of which is another often-seen ingredient in celeb fragrances. But considering the state of the current Beckham empire, can you blame him?
How To Match Your Fragrance to Your Next Summer Vacation Destination
Watch: The Search for a Scent