Beyoncé Shares Photos From Her "Push Party," Or What Most People Call a "Baby Shower"
Naturally, it was fit for a queen.
---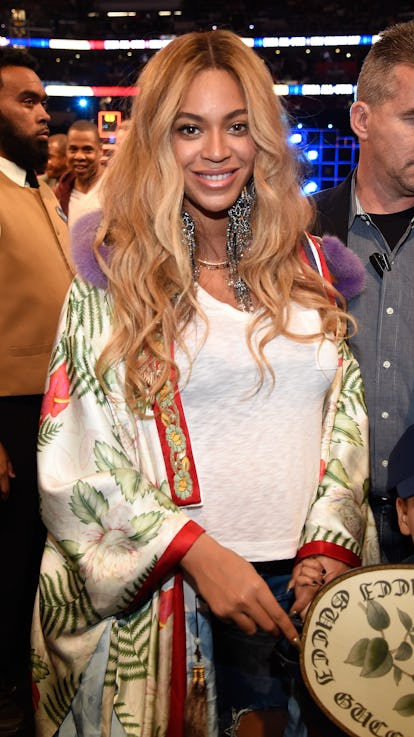 Kevin Mazur
Beyoncé's baby shower—dubbed the Carter Family Push Party—was completely over the top, as one could only expect from the pop star, who announced her pregnancy with a full-on photoshoot in collaboration with the artist Awol Erizku.
At the push party, Beyoncé's guests coordinated their outfits with the decor. They wore bold head wraps, caftans, and printed dresses, and every inch of the space was covered in beautiful printed fabrics in shades of orange, pink, and gold. The mother of honor, meanwhile, wore a head wrap, a bra top, her bare belly decorated with henna, and lots of big jewelry. The photos—which Beyoncé shared on her Instagram account today—were shot in black and white, giving the boisterous prints a graphic, artful appeal. In short, this was not your typical whimsical baby brunch. There were no toy pacifiers, cupcake towers, or pastel floral arrangements to be seen.
Beyoncé revealed that she was pregnant with twins back in February, which means that she should be giving birth fairly soon. (She was already visibly pregnant in her gorgeous birth announcement, and twins also tend to come early, so the waiting game is on.) We can't wait to see the joy bursting from her Instagram account when the little ones arrive—and hopefully, some choice Carter family fashions too.
Go Behind the Scenes at Beyonce's W Cover Shoot