Beyoncé's Lemonade Won a Peabody Award for Entertainment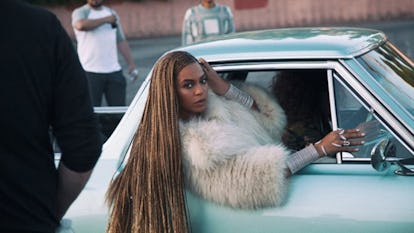 Tidal
Although few of us, Adele likely included, are still stunned that 25 beat out Beyoncé's seminal visual album Lemonade at this year's Grammy Awards, other accolade-gifting bodies are trying to make up for the slight. This year's Peabody Award winners were announced on Thursday, and Lemonade has received the honor in the Entertainment category.
Along with Lemonade, the other Entertainment Peabody recipients are Donald Glover's Atlanta, Louis C.K.'s Horace and Pete, C.K. and Pamela Adlon's Better Things, Veep, Happy Valley, and National Treasure (Hulu's British import series, and not the Nicolas Cage franchise, if there's confusion). Selected by the Henry W. Grady College of Journalism and Mass Communication at the University of Georgia, the Peabody Awards recognize the best each year in television, radio, and, now, relevant online content.
On the Peabody Awards website, the jurors explain their selection of Lemonade, saying that "'Lemonade' draws from the prolific literary, musical, cinematic, and aesthetic sensibilities of black cultural producers to create a rich tapestry of poetic innovation. The audacity of its reach and fierceness of its vision challenges our cultural imagination, while crafting a stunning and sublime masterpiece about the lives of women of color and the bonds of friendship seldom seen or heard in American popular culture."
Although it may be the most highbrow of the bunch, the Peabody is not the only award to recognize the stunning achievement that is Lemonade where the Grammys failed, save for two lesser category wins for Best Music Video and Best Urban Contemporary Album. The monumental effort has also netted top honors at the MTV Video Music Awards and BET Awards, plus a couple of prime-time Emmy nominations.
The ceremony for the Peabody Awards will be in a month, on May 20th. Rashida Jones is set to host the honors, which will take place in New York before later airing on PBS and Fusion on June 2.
Related: Beyoncé's 2017 Grammys Performance Was an Actual Religious Experience
Beyoncé: Fierce, Fearless, Female:
Beyoncé's Most Iconic Beauty Moments of All Time
As a member of Destiny's Child in 1999, Beyoncé embraced a more natural look hair-wise — which made her purple eye shadow and shimmery lipgloss stand out all the more. Photo courtesy of Getty Images.

Getty Images
At the 2000 9th Annual MTV Movie Awards, Beyoncé wore her highlighted loose waves with a glossy, mauve lip. Photo courtesy of Getty Images.

Getty Images
Beyoncé 2001 MTV Movie Awards wears her highlighted blonde locks in tousled waves with a floral hairpiece and a golden smoky eye. Photo courtesy of Getty Images.

Getty Images
A look we wish she'd revive — Beyoncé appeared on TRL again in 2002 to promote Austin Powers in Goldmember, showing off the same hair style sported by her character Foxxy Cleopatra. Photo courtesy of Getty Images.

Getty Images
Beyoncé was glowing at the The Fighting Temptations film premiere in Hollywood in 2003 wearing a sleek, braided up do with a silver smoky eye. Photo courtesy of Getty Images.

Getty Images
Wearing a low, tousled pony with blunt bangs and a gunmetal smoky eye, Beyoncé attends the 2003 MTV Europe Music Awards. Photo courtesy of Getty Images.

Getty Images
Loose curls defined the look for all three ladies of Destiny's Child for their NFL performance before the Patriots vs. Colts game in Foxborough, Massachusetts in 2004. Photo courtesy of Getty Images.

Getty Images
Though she wasn't up for any awards in 2005, Beyoncé arrived at the 47th annual Grammy Awards looking like a winner, with a slick updo and a fresh glow. Photo courtesy of Getty Images.

Getty Images
Beyoncé shows off full, loose curls (much like her Foxxy Cleopatra look, minus the curly bangs) for a BET Awards performance alongside Jay-Z in 2006. Photo courtesy of Getty Images.

Getty Images
A winner all around in 2007: A more understated look allows the best accessory, a new Grammy to add to the collection, to speak for itself. Photo courtesy of Getty Images.

Getty Images
At the premiere of Cadillac Records in 2008, Beyoncé embraced a classy singer-actress look with another slick up do, this time with a loose pony behind it. Photo courtesy of Getty Images.

Getty Images
Beyoncé rocked brunette curls at the 2009 MTV Video Music Awards with a subtle grey smoky eye and and glossy nude lip. Photo courtesy of Getty Images.

Getty Images
Flat, ultra-highlighted hair pairs with a more exaggerated winged liner than Beyoncé's usual look, here at the 52nd annual Grammy Awards in 2010. Photo courtesy of Getty Images.

Getty Images
Beyoncé bleached her hair even further for the Grammys the following year, in 2011. Photo courtesy of Getty Images.

Getty Images
Beyoncé went back to bangs in 2012. She paired the look with matte pink lip. Photo courtesy of Getty Images.

Getty Images
Beyoncé showed off her super short pixie cut in 2013. Photo courtesy of Instagram.

Instagram
Every year brings another Grammy Awards, and with it, another stellar look from Beyoncé. She rocks yet another variation on the formal ponytail for the event in 2013. Photo courtesy of Getty Images.

Getty Images
Beachy, tousled waves paired with a taupe smoky eye was Beyoncé's stunning look at the Costume Institute Gala for the "PUNK: Chaos to Couture" in 2013. Photo courtesy of Getty Images.

Getty Images
The singer went short again with faded ombre ends and a vivid makeup look for the Grammys in 2014. Photo courtesy of Getty Images.

Getty Images
Beyonce's sultry evening look turned heads at the 2014 Costume Institute Gala as she paired her sleek up do with a maroon lip and an embellished veil. Photo courtesy of Getty Images.

Getty Images
Beyonce's sheer Givenchy gown might have been what attracted all the attention at the 2015 Met Gala, but her hair and makeup are equally worthy of attention. A towering, teetering ponytail amps it up, while her makeup stays neutral. Photo courtesy of Getty Images.

Getty Images
At the 2016 Super Bowl Halftime Show, Beyonce and her dancers stepped out in Black Panther-esque black catsuits — but her gorgeous ombre curls are equally commanding. Photo courtesy of Getty Images.

Getty Images
Proving once more that less is more, Beyoncé made a surprise appearance at 2016 58th Grammy Awards wearing a sleek, side-parted low bun with a taupe smoky eye. Photo courtesy of Getty Images.

Getty Images
Stunning in an adventurous latex Givenchy dress at the 2016 Costume Institute Gala, Beyoncé wore her long blonde locks sleek straight with an exaggerated jade green smoky cat eye. Photo courtesy of Getty Images.

Getty Images
The 22-time Grammy winning singer celebrates her latest additions for Best Music Video and Best Urban Contemporary Album wearing a copper smoky eye and matte nude lip. Photo courtesy of Getty Images.

Getty Images
Beyonce during the 60th Annual GRAMMY Awards at Madison Square Garden on January 28, 2018 in New York City. Photo courtesy of Getty Images.

Getty Images
Beyonce Knowles performs onstage during the 2018 Coachella Valley Music And Arts Festival at the Empire Polo Field on April 21, 2018 in Indio, California. Photo courtesy of Getty Images.

Getty Images
Beyonce attends the Premiere Of Disney's "The Lion King" at Dolby Theatre on July 09, 2019 in Hollywood, California. Photo courtesy of Getty Images.

Getty Images