A Close Examination of the Kardashians' New Calvin Klein Campaign, Including Kylie Jenner and Some Strategically Placed Blankets
The brand's latest homage to Americana seems to contain several klues to the pregnancy rumors that have been following the family.
---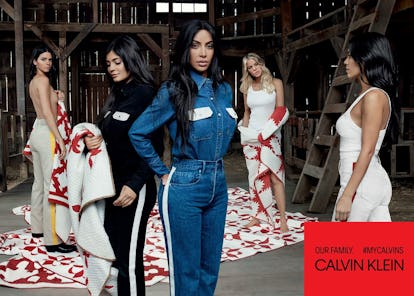 Calvin Klein
Ever since he took over the helm of Calvin Klein, Raf Simons has dedicated himself to embracing—or, in the case of the brand, re-embracing—Americana, from Western, cowboy-inspired looks to the country's darker underbelly. Having already gotten progressive with its groundbreaking Moonlight campaign, the brand has now moved onto the reality of everyday America: Its latest ads for Calvin Klein Jeans and Calvin Klein Underwear stars Kim Kardashian and practically all of her family, including Kylie Jenner, Kendall Jenner, Khloé Kardashian, Kourtney Kardashian, and Khloé Kardashian, camping out on the concrete floor on what appears to be a stable, embodying what Kim described as Simons's "American vision in a barn with my family." (Thankfully, at least for Khloé, who's barefoot, some of the concrete is covered up with a patchwork blanket or two.)
In a time where some of the family is, for what seems like the first time ever, doing their best to lie low, the campaign offers some interesting details about what might be going on in their various households. Let's start with the jeans campaign: Kourtney remains on the periphery, observing the scene in a nondescript white outfit with half of her face and body obscured. One can hardly blame her for wanting to take it all in: At the center is Kim standing robustly in all denim, and between her and Kourtney, in a simple white tanktop and an on-trend blanket-as-outerwear, is Khloé, whom Vogue reports was in fact pregnant at the time of the shoot, which was of coursed photographed by Simons's longtime collaborator, Willy Vanderperre.
Also wrapped up in a blanket is Kylie, aka the other half of the Kardashian pregnancy speculations that have been omnipresent for months. While Khloé at long last confirmed hers, the truth about Kylie still has yet to be solved—quite maddeningly so for some, whose thirst for details has reached a fever pitch as of late. In the campaign, it definitely appears that Kylie is employing the same "serious strategy" as Khloé to obscure her pregnancy—or, at the very least, to add fuel to the rumors about it. Kylie matches Kim in an all-black, cowboy-inspired and striped ensemble, though hers is semi-obscured by one of the patchwork blankets—strategically placed right in front of her stomach.
The same can be said for the family's underwear group shot, where Kylie is the only one who gets her own blanket to cover up, while the rest show off boy shorts and more of the brand's undergarments. (It's notable that the shot also sees Khloé covering up her stomach with her hand—and holding Kylie's hand with her other one, seemingly in a show of support.)
Of course, Kylie may have wrapped up most of herself in a bundle simply because she wanted to show off her pristinely white new Calvin Klein bra; She apparently adores it! "They are so comfortable, and I'm still obsessed with them today," she told Vogue of the brand's bras and underwear. Kendall, a Calvin Klein underwear vet as a previous campaign star with none other than Justin Bieber, agreed, calling the Modern Cotton bralette a "staple" and saying that she has one "in every color." (Although her love of being topless seems to have beat out her actually wearing one of the bralettes in the campaigns: As she's told W, "I love my tits being out. It's like one of my things, I guess.")
Kendall's love for the clothes isn't just limited to the bralettes: "Everything we wore, the ranch where we shot it—it was all iconic," she added. Kim definitely agreed: "Family is everything, so when we're all together doing something special like this, it means so much," she said. "We were all in a group text before saying how lucky we are to do this together and that it's going to be the best day."
Thanks to the David Casavant archives, Kim and her husband Kanye West have long worn vintage Raf, though this is the first time she seems to have spoken to Simons—and that Simons has even expressed approval for the family, which some designers have famously rejected, though admittedly before Kendall became a supermodel. (In 2013, the stylist Nicola Formichetti told Elle that dressing Kim was "a challenge" because "fashion snobbery" kept brands from lending clothes for her to wear, whereas Karl Lagerfeld chastised Kim shortly after her 2016 robbery, calling her "too public" and stating that "You cannot display your wealth then be surprised that some people want to share it.")
Khloé is now around six months along with her pregnancy, meaning the campaign has to have been shot as recently as this past summer or later—likely before the family shot their family Christmas card, in which Kylie was notably absent. It was rumored as early as in September that Kylie was already five months along—which, if true, would mean she must have been showing a bump at the time the campaign was shot. (And, by the way, that she should be due to have the rumored baby any day now, even if the recent reports that she went into labor turned out to be false.)
Notably absent in the campaign is Kris Jenner, the family's matriarch—perhaps because, for once, she wanted to stay away from the drama. As she tearfully told her family apparently right around the campaign seems to have been shot, "I used to pray that one of you guys would have a baby; now it is like a faucet that we turned on and it won't turn off." That's not to say she's given up her duties as her daughters's hype man: Predictably enough, shortly after the campaign debuted, she was the first to have posted an image from it to Instagram, taking care to use the hashtag "#ProudMama."
Related: Why Kylie Jenner Is Reportedly Keeping Her Pregnancy a Secret
A Definitive Ranking of Kardashian Christmas Cards, From Least Kardashian to Most Kardashian
Mispelling of Khloe's name aside, this card is most definitely the least Kardashian thanks to one notable exception: as if Kris Jenner would ever miss a photo opp nowadays.
While this was years before Kim was running around with Karl Lagerfeld and Riccardo Tisci, you can still see the pain in her eyes over having to wear ill-fitting, matching motorcycle jackets with the male-heavy Jenner clan.
A Kardashian never misses the chance for a full-scale, glam-squad heavy photoshoot. The fact that they skipped a prime opportunity for the 2009 holiday card in favor of an outtake from Khloe's wedding is very off-brand.
As everyone who has caught a glimpse of Keeping Up With the Kardashians or paged through an Us Weekly in the past decade knows, this family is not without some serious drama. The party-themed, all smiles 2012 card is just a little too happy.

Courtesy of Celebuzz
Another all-white card, but at least this one comes with some angst (Hi, Khloe) and tense smiles that nod to some underlying drama. Bonus points for a tiny baby Kendall Jenner and an appearance from Santa.
Here we have some high glamour Kardashians, as we've come to know and love—at least, until the Yeezy athleisure movement came in full-force. The fact that Kim's shade of red is just slightly off from the rest of the clan is a great easter egg.
The 2013 David LaChapelle-lensed card was a tipping point for the family, as they went from "delightfully zany" to just "full-on insane." There are just so many things to look at here—which, truly, could be said about the family in general.
A distinct departure from the bonkers previous card, once Kim and Kourtney started building their own brood, they let the kid's take center stage in the family's holiday card. A cute thought, but if rumors are too be true, the concept might be a little too crowded come next year.
You want drama? Glamour? Welcome to the 2010 Kardashian family card. This was the first year to let each sister's individual style stand out, a nod at many fashion empires to come.
2011, however, was the card to end all cards. Case in point? It was in 3-freaking-D. Your Christmas card could never. But hey, what are Kardashians if not ahead of their time?