Khloé Kardashian Admits It Took "Serious Strategy" to Hide Her Pregnancy
"I can't even believe I hid my bump for as long as I did."
---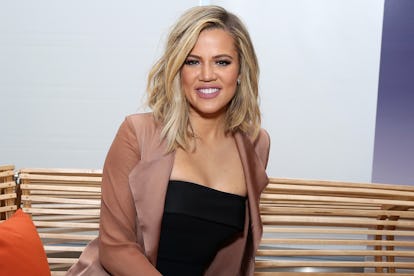 Getty Images
Despite months upon months of rumors and speculation, Khloé Kardashian managed to keep her recently confirmed pregnancy under wraps from paparazzi and prying fans for nearly three months. It's nothing short of a feat (even with PR-mastermind Kris Jenner working overtime). And now Khloé is sharing the extreme tactics she used to evade the public.
"I can't even believe I hid my bump for as long as I did," the mom-to-be wrote on her app. "It took a few styling sessions, serious strategy, and a sh*t-ton of courage, but it worked!"
Her go-to styling secrets? Cinched waist dresses, billowy coats, lots of patterns, and a "well-placed" accessory. Basically, the exact same go-to's that were used to trick the world into thinking that Carrie Bradshaw wasn't pregnant when Sarah Jessica Parker was actually pregnant.
The most notable "is she or isn't she" look was the cinched waist dress she wore to Kim's baby shower, which had fans at the time scratching their heads over whether or not there actually was a baby bump under there, despite the rumors. "I went super girly for Kim's baby shower," she wrote. Little did everyone know I had a bun in my oven, too! A cinched waist with a flared, A-line hem is so $$$ for hiding a small bulge. It flows loosely at the exact right spot."
As for whether or not it was hard to keep her pregnancy under wraps (or in this case, under cinched waist) for so long, Kardashian admits that she had no problem keeping the world guessing for at least a little while. "Keeping the secret from the outside world wasn't as big of a deal for me," she wrote in a separate post on her site. "I believe there are certain things that need to be held private and for yourself. It was beautiful to have something that was just ours. Not telling everyone wasn't really a huge concern of mine. I wanted to share with my fans when we were ready. And now I'm beyond grateful for all your support!"
The only people it was hard keeping the secret from was her family. "I'm with my sisters pretty much every single day, so it was hard to not be able to say why I was so sick or couldn't do certain things. We wanted to tell everybody at one time, which made things even more tricky—how do you get all those people together in one room?!—but it was so amazing when we finally did!"
Kardashian captured the reveal on a recent episode of KUWTK, where she told all of her sisters (including Kendall and Kylie on FaceTime) in one fell swoop that she was expecting. In December, she then made the even bigger reveal to her followers on Instagram, wearing not a cinched waist dress or billowing coat, but a sports bra revealing her bare stomach. "I know we've been keeping this quiet but we wanted to enjoy this between our family and close friends as long as we could privately," she wrote. To enjoy our first precious moments just us. Thank you all for understanding."