Kendall Jenner, Revealed: The 20-Year-Old Model Loves Showing Off Her Body
"It's like one of my things," she says.
---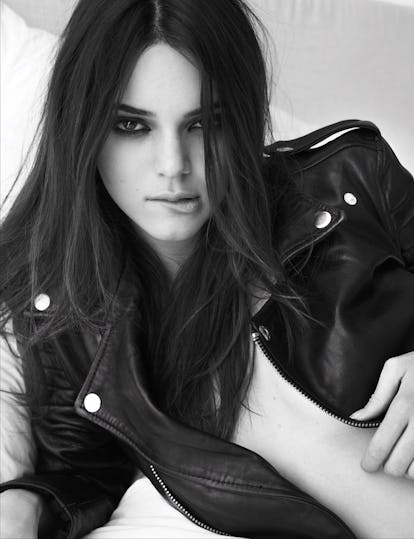 Mert Alas and Marcus Piggott, styled by Edward Enninful.
At 20 years old, Kendall Jenner has already been famous for more than half her life. Since she became a regular on family's reality TV show Keeping Up with the Kardashians at the age of 9, Jenner has been working almost every single day. "I think I was raised to be a workaholic," she says.
Jenner's hard work has paid off. Today, she's one of the most in-demand models in the world, and one of the most popular girls on social media. But she's not ready to slow down. "My little sister and I are baby bosses," Jenner says. "We basically are on our way to rule the world, so you can expect that." Here, she talks about what it's like growing up on TV, her childhood crush on Justin Bieber, and why she may never be an actress.
How old were you when you became interested in modeling? I was, like, ten when I started thinking models were the coolest people in the world. My favorite model when I was ten was Gisele. I didn't really know what I was talking about, and I think it's the only name I knew.
Did you used to pretend to be a model? I would definitely like practice a walk that was very bad. I was a tomboy for a couple years, so those years I think I was more into sports. Once I came out of that, I was secretly doing walks in my room and stuff.
What was your first go see? I lived in New York for almost two months for a minute and I was staying in a really shitty little apartment. I wasn't signed with an agency yet, but I was working with an agent and trying to get people to book me. And I would run to a million test shoots in the middle of nowhere, again at shitty apartments. Every single day, I'd do like test shoots, test shoots, test shoots, go and meet people, go, like, to castings and all of that good stuff. So I really did it.
And what was the first big break? My first big break was going to meet Katie Grand at Marc Jacobs, and then I got the Marc Jacobs show. I was so nervous. I didn't think anyone would like me. It's so nerve wracking in front of all those cool people and you go back a couple times and they need to see if they really like you. I got surprised in person that I booked the show.
Were you nervous the night of? I actually surprisingly was not nervous, not extremely nervous. I was more excited. I think I wasn't nervous because I was wearing flats. Like, I got to wear, like, flat shoes so it wasn't as nerve wracking. I was, like, I can't fall. There's no way I can fall.
So that was your big concern? Yeah, my biggest concern was definitely falling. And then my tits were out. I don't know why I wasn't nervous about that. I was really excited about my tits being out, actually.
Why? I don't know. I'm weird. I love my tits being out. It's like one of my things, I guess.
So you have no trouble with nude photography? No, there's a line. There's a definite line. But I'm young. When I'm older, I want to be able to look at it and be, like, I looked good.
How much time do you spend basically working? Ten months out of the year, I'm working almost every day. I think I was raised to be a workaholic, so I think that I knew it was going to happen at some point. I've been working since I was ten years old.
What kind of jobs did you have besides this job? I was on a reality TV show, which you could consider a job. It's technically a job, but it's working with my family every single day so I'm very lucky to call it a job. And I just get to hang out with my family and I've been doing that since I was, like, nine years old. And then my little sister and I are baby bosses. We basically are on our way to rule the world, so you can expect that.
Do you have acting aspirations despite the fact that you've been in a reality show for the [laughs] for your entire life? Yeah, I do have acting aspirations, maybe in the future. I'm really busy right now. I don't know that I would find time, but maybe.
Is there a movie that makes you cry? Marley and Me or Titanic or The Notebook. Tons.
Do you like to cry at movies? I like to cry in movies if I'm in that mood. Like, if I'm already sad about something in real life, I don't think I'd want to watch a movie and cry. Because then it just makes you even more sad. But if you need a good cry, just watch a good crying movie
Who's your girl crush? Angelina Jolie is definitely my girl crush. I love Angelina Jolie in Mr. and Mrs. Smith. And like Gia is really cool, she plays a model. It was just an interesting story.
Who did you have a crush on when you were a kid? Benny "The Jet" Rodriguez. He was the kid from The Sandlot. He was like the main little hot kid in The Sandlot. I'm trying to think of other kids I had crushes on.
How about any pop stars? No, I was more into the Disney kids. Like, I think I had a crush on Zack and Cody from Suite Life of Zack and Cody, and who else did I have a crush on? Oh, Justin Bieber was like the pop star of my time. I feel like I must have had a 12-year-old crush on him. Not anymore though!
How about from the movies? I mean, I love young Brad Pitt. And now Brad Pitt I guess. I watched Legends of the Fall recently for the first time. I'm really late to the party, but it was really good and he's really hot.
Where was your first kiss? You're going to think this sounds really crazy, but it's not as crazy as it sounds. It was in a shower, but not on. We were fully clothed playing truth or dare and it was me and three of my friends. And my little sister was trying to spy on us. My room didn't have a lock on it, but the bathroom door did so we all shoved in the bathroom until when we got dared to kiss someone. We would have to go in the shower and like close the curtain so no one would see and we'd kiss and come out. So it was in a shower, but it wasn't as naughty as it sounds.
And how was it? It was weird, but it was cool because it was with a kid that I really, really liked. I haven't spoken to him in so long – since then probably.
Are you superstitious? Not really. I don't think this is a superstition, but I say a little prayer.
When do you say the prayer? Before I walk, before take off in a plane, and every night.
Have you always? Yeah, my mom – I was raised to kind of do that. It makes me feel better.