Kim Kardashian Robbed at Gunpoint, Kanye Abruptly Halts Show
Kim Kardashian was robbed at gunpoint during Paris Fashion Week, while a quarter of the world away Kanye West abruptly ended his show.
---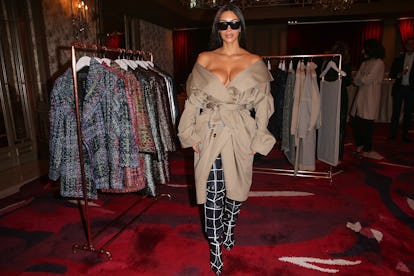 Getty Images for Siran
Paris Fashion Week has not been a safe space for Kim Kardashian this week. After being assaulted by an attention-hungry "prankster" earlier this week, the queen of reality TV was reportedly robbed at gunpoint in her French hotel room by two men dressed as police officers.
Meanwhile, a quarter of a world away, husband Kanye West put an abrupt end to his performance in New York City at The Meadows Festival after apparently learning of the incident in the middle of a song, which left fans at the top scratching their heads and booing.
It started off as a busy day for Kardashian. She sat front row with her mother Kris and sister Kourtney at the Givenchy show. The Kardashian-West's fashion world friendship with Givenchy creative director Riccardo Tisci is perhaps only rivaled by their bond with Balmain's Olivier Rousteing. She then attended the presentation of Siran, whose designer Siran Manoukian is, like Kardashian, of Armenian descent. She then finished up her fashion agenda with a visit to the atelier of Azzedine Alaïa.
When she retreated to her hotel room later in the day she was greeted by two criminals dressed as police officers.
"Kim Kardashian West was held up at gunpoint inside her Paris hotel room this evening, by two armed masked men dressed as police officers. She is badly shaken but physically unharmed," a Kardashian spokesperson told CNN.
West had been with his wife in Paris earlier this week but flew back to America for his headlining slot at the inaugural The Meadows musical festival at Citi Field in the Bronx.
In the middle of the set, according to one Twitter user, a man rushed on stage to inform West of something. West tried to continue his show, but then, apparently after learning about the severity of the situation, West abruptly ended his set right in the middle of his song "Heartless."
"I'm sorry… family emergency, I have to stop the show," west informed the crowd.
At least one attendee shouted, "This is so Kanye."
"What happened to Kim?" another shouted.
It wasn't until a few hours later that word of the actual family emergency would make its way to fans.
Update:
According to Paris police, about five men are suspected of being involved in the heist. The group gained access to the rented apartment Kardashian was staying in by first confronting the concierge with a weapon and then handcuffng him. They then gained access to Kardashian's room where they found her in bed. The men pointed a gun at Kardashian, and then reportedly hogtied her and locked her in a bathroom.
Somewhere between $6.5 million to $11 million worth of jewelry, including a $4.5 million ring, are believed to have been taken according to various reports. The men then made off on bicycles. Kardashian, who was physically unharmed, was able to break free afterwards and call police.
Kardashian flew back to New York City almost immediately afterwards and was reunited with West. The couple's children were not with Kardashian in Paris.