Where in the World Is Kylie Jenner?
The holiday mystery of Kylie Jenner's whereabouts slowly unfolds.
---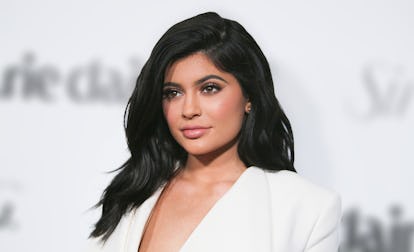 David Livingston/Getty Images
Amid all of the post-Christmas festivities, we collectively all seem to have one question on our minds—where in the world is Kylie Jenner? Not a Snapchat video taken at the annual Christmas Eve party thrown by Kris Jenner featured a peep of the presumably pregnant Kylie (although, she allegedly was there in secret), and not one of Kim's 25 Christmas cards showed any sign of the youngest Jenner either. Kylie's whereabouts appear to be known by no one, and if they are, nobody has opened their mouth one bit in regards to whether or not she's actually pregnant (she still has yet to confirm, although her sister Khloé finally announced that she's six months along herself). It's also unclear if she is spending the holidays with reported fiancé Travis Scott, or locked up in her own tower in Calabasas until the baby comes. The truth is out there…
We all just want one inkling of a confirmation of Kylie's whereabouts, and not even her best friend Jordyn Woods is giving us a taste of the truth. This is the same girl who used to spend what seemed like every waking second documenting all of the minutiae of her daily life on Snapchat, and suddenly she has just disappeared. We need answers, and as Kris Jenner once said herself, this is a case for the FBI—or, at least, a case for those of us on the Internet who have been invested in this family's shenanigans for well over a decade now.
Where has Kylie been? She hosted Thanksgiving for her family, according to her Snapchat and Instagram Stories, and had a big surprise 20th birthday bash this summer, but with every post comes more speculation and rumors, and never a confirmation of what's really going on with the youngest Jenner.
Every holiday season, the Kardashians release their famously over-the-top Christmas cards. It's an unparalleled family tradition—and we've even ranked them from "least Kardashian" to "most Kardashian" because these cards are indeed worthy of the most astute cultural analysis. While some members of the family have come and gone from the picture (Lamar Odom, Caitlyn Jenner, even Rob Kardashian) over the years, the core family members are always there—Kris, Kourtney, Kim, Khloé, Kendall and of course Kylie. That's why this year, Kylie's absence makes it so glaringly obvious that something must be up.
We all thought Kim—who had been releasing a Christmas card each day, à la LOVE's Advent calendar—might do us all a solid and give the gift of the truth this Christmas. We waited with bated breath for 25 whole days only to get a (very cute) Christmas card with the siblings and their kids, minus Kylie, and people are not happy about it.
And speaking of LOVE, Kylie shared this cover of the magazine, upon which she coyly eyes the camera in a closeup shot by her sister Kendall, while wrapped up in a cozy red sweater (to hide a baby bump, probably). The interview inside is done by none other than her mom, Kris Jenner, and of course if anyone knows anything about the truth of Kylie Jenner's whereabouts, it's Kris, but she's only given the most cryptic statements on the status of her daughters' pregnancies in the last couple months.
Of course we are at the mercy of PR maven extraordinaire Kris Jenner when it comes to a big reveal of any kind—these puppet strings won't pull themselves! There are still six days left in 2017 if Kylie wants to give us a little New Year's reveal, but until then, we'll all be grabbing our magnifying glasses, turning on our post notifications and waiting it out until the January 7 return of Keeping Up With The Kardashians.
Related: Kylie Jenner's Absence from Kardashian-Jenner Christmas Card Fuels Fan Speculation