Kylie Jenner Rang in 20 With a Surprise Birthday Party, Travis Scott, and the Rest of the Kardashians
Plus an ice sculpture in the shape of a butt, of course.
---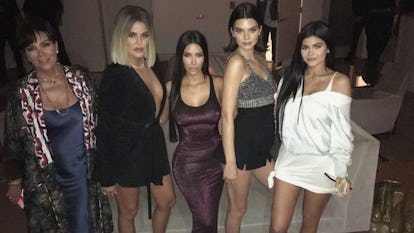 Kim Kardashian/Snapchat
Kylie Jenner is no longer a girl but not yet a woman. For her 20th birthday (which is actually today), that awkward year between teendom and full adulthood, Jenner's family—Kim, Kris, Khloé, and "tips in cash" Kendall—threw her a surprise birthday party, complete with an ice sculpture of, well, a naked image of herself.
According to People, the youngest Jenner "walked into the unexpected bash after attending her boyfriend Travis Scott's concert with Kendrick Lamar at the Staples Center in Los Angeles earlier in the evening…she entered the venue and immediately gave her boyfriend a hug."
There may have been cake and balloons, but the pièce de résistance was certainly the ice sculpture of the makeup mogul's famous curves. In a Snapchat saved by the good folks over at Instagram @kyliesnapchat, we get a good look at the sculpture while Jenner screeches "Jordyn, what is this?" over the sounds of Migos's "Bad and Boujee." No surprise there.
Nineteen was a pretty busy year for Kylie; she starred in her own reality show, Life of Kylie, and expanded her makeup brand. According to a recent profile in WWD, Kylie Cosmetics is raking in tens of millions of dollars. To put it another way, Jenner has accumulated a small fortune, much bigger than when she was just a normal teen millionaire living in a Calabasas mansion.
On a more sentimental note, her mother, Kris Jenner, posted a photo collage on Instagram for Jenner's birthday, with a sweet caption that read, "Happy birthday my beauty, @Kyliejenner! 20 today!! I am so proud of the young woman you have become. Kind, generous, hard-working, funny and beautiful inside and out. You are one of a kind, and I'm grateful every day that God gave me you. I love being your mommy! There is so much ahead for you, my angel, and I can't wait to see what your 20s has in store!! I love you more than you will ever know! Mommy xo"
Kim Kardashian also took to Instagram to wish her sister a happy 20th, writing:"Happy Birthday baby sis! @kyliejenner You are always so determined &so set on what you want in life & starting at such a young age you always went for it. That's so inspiring to watch. I love you Ky"
More scintillating party pictures and videos below:
Related: Kylie Jenner Cosmetics Could Be Worth $1 Billion By 2022
Here Are the Real Heroes of the Kardashian Jenner Family Empire:
A Celebration of Kylie Jenner's 20 Years of Not Letting the Critics Get Her Down