Bella Hadid Lets Out Some Aggression For LOVE's 2017 Advent Calendar
The model took a sledgehammer to a tire and let out some pent up aggression, all in the name of LOVE.
---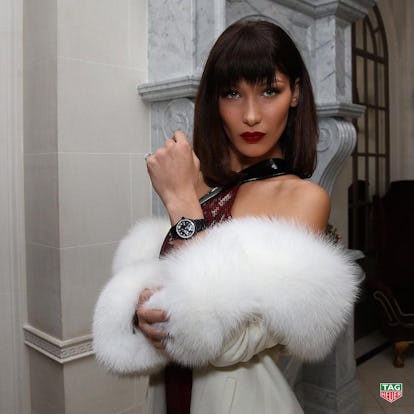 @bellahadid
Bella Hadid is well known for many things in addition to her illustrious career as a supermodel—she's known to have a keen interest in being an equestrian and occasionally a photographer, but now she takes on a new title of sledgehammer siren for the 2017 LOVE Advent Calendar. Clad in her red Agent Provocateur lingerie and sporting a glistening high ponytail, Hadid grabbed a sledgehammer and repeatedly smashed a large rubber tire (without making a dent) as water cascades from above, making her sledgehammer session slippery—and potentially quite dangerous—to say the least. "Women are the wave of the future. Stronger than anything," repeats underneath the electronic beat of the Day 18 addition of the advent calendar.
She's not the first celebrity to swing a sledgehammer around for the camera (just ask Miley Cyrus), but this sultry addition to the LOVE calendar is a stark contrast to her appearance in the calendar last year, where she wore a couple of pastel unitards and flexed her muscles to an aerobic exercise routine set to Olivia Newton-John's "Physical." One might even say this year's sledgehammer bit makes last year's aerobic moment feel wholesome by comparison—although clearly snacking on a banana in slow motion as she did last year is anything but tame, and this year's entries have been particularly forgiving of the male gaze, as they are just about every year. Despite the fact that she's not necessarily sporting appropriate gym attire, this video for the advent calendar hasn't even been the most controversial one yet. Day 11's entry from her sister, Gigi Hadid, would be the one to take the cake—her presumed armpit hair on display turned out to just be dust and debris in the boxing gym where she filmed her video, and not any sort of political statement like the majority of fans and haters alike on the Internet assumed.
Finishing off her LOVE advent calendar entry is a quote from Bella herself, which reads, "I love beating the s–t out of tires for fun." After the year Bella's had—bolstered by boundless professional success, but of course somewhat marred by her break-up from and potential rekindling with The Weeknd—who can blame her for wanting to get out some pent up aggression? At this point in 2017, taking a hammer to a rubber tire over and over again must be a huge stress reliever and (minimally) dangerous physical activity we could probably all get behind.
Related: Bella Hadid Went to a New York Knicks Game and Her Reactions Are Priceless
Bella Hadid's Best Off-Duty Looks