Bella Hadid Went to a New York Knicks Game and Her Reactions Are Priceless
She fell to the floor multiple times.
---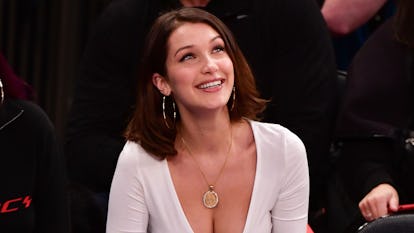 James Devaney/Getty Images
If you've ever wondered what supermodels really do in their off time, look no further than Bella Hadid's Tuesday night. With a bit of a lull in the fashion calendar, the model who seemed to completely conquer 2017 spent her evening crouching on the Madison Square Garden floor, spilling popcorn on the court, and firing off triumphant finger-guns throughout the New York Knicks's game against the Los Angeles Lakers. Typical model stuff.
Hadid and a friend had floor seats to Tuesday's showdown—which the Knicks won by a hair in overtime, 113-109—and stayed glued to the game the entire time. Photos from the arena show Hadid crawling along the edge of the court, pumping her fist, screaming in excitement, and showing off her mastery of the classic Little League coach pose: slight crouch, hands on knees, mid-yell. Throughout it all, Hadid had a look of pure joy on her face—except, of course, when she was falling out of her seat and clenching her teeth in anxiety.
The 21-year-old documented her time at MSG on her Instagram Stories. After posting a shot of a stoic, besuited man standing guard on the court with the caption "A whole mood," she uploaded a video of her using her foot to gather up some popcorn she spilled on the court, writing, "I got too excited I'm sorry." At some point during the game, Hadid made a quick outfit change (as one does). She started the game in a white long-sleeved V-neck crop top, faded high-waisted jeans, chunky white basketball shoes, gold hoop earrings, and a gold medallion necklace, and ended it in a white Knicks jersey topped with a bright red puffy jacket.
It's unclear whether Hadid, a California native, is a diehard Lakers fan like older sister Gigi or if she's adopted her current city's colors, but either way, she and her extra reactions were the obvious winners of Tuesday's game.
Related: Bella Hadid's Best Off-Duty Looks